I wrote that 90 days ago... Has the picture changed yet for oil stocks?
Back in early January, EVERYONE was buying oil companies. Everyone, that is, except me. Here's why I wasn't buying back then:
In short, we are not there yet... but we are getting close.
Oil is no longer the big story in the financial media (finally!). And investors are finally giving up on oil companies – a bit.
Let me show you one (unique) way to make my point...
In December, Americans searched on Google for the term "energy ETF" more than any time, by far, since the financial crisis. Take a look: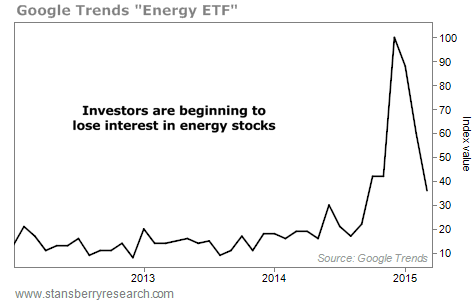 You can also see that interest in energy ETFs has fallen off dramatically since December.
In short, I think that investors have stopped buying energy stocks... but they haven't fully given up on them yet...
Investors haven't sold yet. (One way to see this is to look at the "shares outstanding" of the main energy-stock ETF... The shares outstanding have stopped going up... but they're not going down – yet.)
I look forward to buying energy companies at some point...
There are plenty of positives here... Energy stocks are one of the cheaper sectors in the stock market today. Both oil and oil companies crashed in price, and they may have bottomed. I do like some of what I see.
I am just not a buyer – yet. We haven't seen investors give up enough yet.
When the time comes to buy, I will let you know...
Good investing,
Steve