It shouldn't exist... but it does.
It will go away, at some point... I'm certain of it.
And somebody will make an unbelievable fortune on this...
It could be you.
Here's what's going on...
Chinese stocks are up more than 100% in the last 12 months. (No, I am not kidding.)
Meanwhile, the main Hong Kong stock market index is up less than 20% in the last 12 months.
The thing is, many of the same companies trade on both stock exchanges. (Yes, they are the same, identical businesses trading on two different stock markets.)
What has happened – as you can probably guess – is the shares listed in China have become dramatically more expensive than the shares listed in Hong Kong.
To me, this is the biggest anomaly in finance today...
This anomaly should shrink in the near term – and ultimately it should go away in the long term.
Yet today, as I write, the Chinese shares are at a 29% premium valuation to the identical shares trading in Hong Kong. This chart shows it...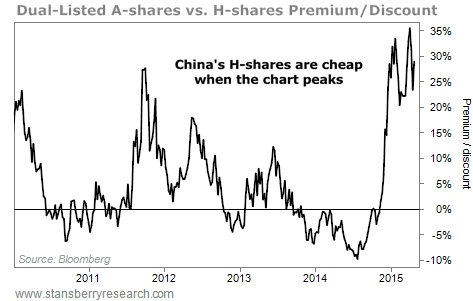 How will this anomaly go away? Will the Chinese shares fall? Or will the Hong Kong shares rise?
It doesn't matter which happens, if you're a smart hedge-fund manager... All you need to "bet" on is that this anomaly will shrink. (A hedge-fund manager would do a "pairs trade" – by simultaneously buying the Hong Kong shares at a discount and selling the same shares in China at a premium.)
If you're not a hedge-fund manager, the simplest trade is to buy Hong Kong through one of the major Hong Kong or China exchange-traded funds. (A lot of so-called "China ETFs" actually just own Hong Kong-listed Chinese companies.)
Hong Kong-listed China plays are cheap – they're one of the best stock market values on the planet.
Our best measure for these stocks is the Hang Seng China Enterprises Index. It's much cheaper than most anywhere else on the globe – trading at a single-digit P/E ratio (forward P/E is 8.9) and a dividend yield of more than 3%.
So you have a great situation here... You can buy one of the world's best stock market values. And you have a great tailwind as well... in the form of the greatest anomaly in finance.
That 29% premium will be closer to zero – permanently – someday soon.
Take advantage of this crazy situation now, before the anomaly goes away...
Good investing,
Steve