We nailed it in Japan!
I called Japanese stocks "The No. 1 Opportunity of 2013" in the January 2013 issue of my True Wealth newsletter.
In that issue, I said: "I expect Abe's revenge will create a massive bubble in Japan's stock market, and trigger a potentially significant fall in Japan's currency."
We got it exactly right. Japanese stocks soared (the Nikkei index is up 100%+ since then). And Japan's currency lost more than 30% of its value since then.
Fortunately, I recommended a way to play it where we could 1) capture the upside in Japanese stocks – and 2) avoid the downside in Japan's currency... We bought the WisdomTree Japan Hedged Equity Fund (DXJ).
We're now up 87% in two-and-a-half years on DXJ... So where to from here?
Surprisingly, Japanese stocks can (and should) continue higher...
They are not expensive yet (particularly by Japanese standards), and nobody is talking about them – yet. Typically, stock markets peak when both of these things happen. We are not there yet.
However, DXJ is no longer the IDEAL way to play it. (It is still good, I just think there's a better way.)
You see, at this point, there's no need to buy a special exchange-traded fund (ETF) that hedges the currency risk, like DXJ. The U.S. dollar soared. And the yen fell dramatically. Both of these moves were fairly extreme. So I don't expect there's a big need to avoid Japan's currency anymore through DXJ.
I think there's a better way to play it...
While DXJ went up 87%, shares of DFJ are only up 36% in the same amount of time. DFJ is the WisdomTree Japan SmallCap Dividend Fund...
DFJ underperformed – significantly – because of the currency. But that move is behind us. DFJ is looking GREAT at the moment...
It's dirt cheap (with its underlying holdings trading around book value), it is completely ignored, and it just broke out to new highs (which is a very bullish sign). Take a look: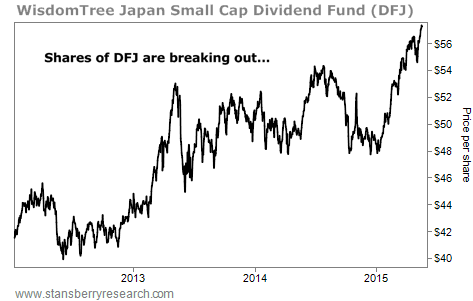 Again, the primary reason it underperformed DXJ is because DFJ doesn't hedge the currency risk. But in my opinion, that issue is not as important now.
In short, Japan still has plenty of room to run... And the ideal way to play it going forward is through DFJ – an ETF focusing on smaller companies in Japan that pay dividends.
By the way, I strongly urge you to read the January 2013 issue I wrote on Japan – I've "unlocked" it
here
– so you don't need to be a subscriber to read it. (If you like what you see, I'd love to have you come on board as a subscriber. See below for details.)
Good investing,
Steve