U.S. stocks are up just 2% so far in 2015.
That feels like a crawl compared to the gains we've seen in recent years... Stocks have gone up for six straight years. And they've averaged 17.6% gains each of those years.
Stocks have never gone up for seven straight years... Today, I'll show you why they could not only break that record... but also could return double-digit gains by the end of 2015.
Let me explain...
Earlier this month, a positive signal flashed for U.S. stocks. This is an indicator most folks have never heard of. But when it gives the signal we just saw, it tends to mean big gains are on the way in U.S. stocks.
I'm talking about the Citigroup Economic Surprise Index.
The Citigroup Economic Surprise Index tracks various economic data and monitors whether data releases are below or above analyst estimates. If the economic data come in below expectations, the reading is negative. If the data are above expectations, the reading is positive.
Now, most economic indicators aren't useful for forecasting stock-price movements. But this indicator has a proven track record since the recent bull market began.
The index ranges from -100 to 100. And this bull market has shown that when the index rebounds above -45 after dipping below it, stocks tend to outperform over the next few months. The table below shows what has happened to stocks each time this has happened over the past five years...
| | | |
| --- | --- | --- |
| Economic Surprise Indicator | S&P 500 3-Month Forward Return | S&P 500 6-Month Forward Return |
| 9/1/2010 | 12.2% | 22.1% |
| 9/8/2011 | 4.7% | 16.5% |
| 7/31/2012 | 3.0% | 9.9% |
| 4/10/2014 | 7.7% | 5.1% |
| Average | 6.9% | 13.4% |

Stocks have averaged 7% gains within the next three months after this signal flashed... and 13% over the next six months.
Like the table shows, this doesn't happen often. Importantly, earlier this month, the index flashed its first signal since last year. You can see this in the chart below...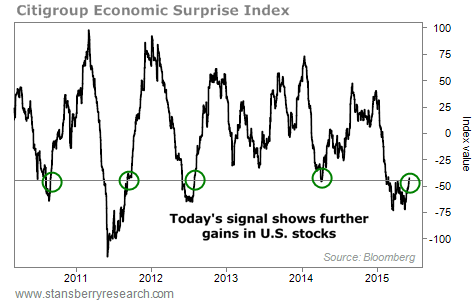 In short, this year started off slow for U.S. stocks. But today's signal says that could soon change.
Not only could we see stocks increase for the seventh straight year (a record). But we could see double-digit total returns by the end of 2015.
The current bull market might feel old. But history shows it should continue from here. Stay invested!
Good investing,
Brett Eversole