This is a crazy-perfect moment to own a home...
Today, I'll show you why now is such a great time to own a home and invest in real estate... even years after the bust.
Let's get started...
There are two main reasons why today is one of the best times in history to buy a home...
| | |
| --- | --- |
| 1. | House prices had their greatest bust since the Great Depression, and they've now recovered and are in an uptrend. |
| | |
| 2. | Mortgage rates are around 4%... which is near a record low. |

When you combine today's prices with low mortgage rates, homes are still incredibly affordable.
In my office, we have a computer model of the "fair price" of the typical (median) home in America.
Our model has three inputs: the median house price, the current mortgage rate, and the median income.
The chart below shows our "fair value." As you can see, when the bust happened – when prices fell and mortgage rates fell – U.S. houses became incredibly cheap relative to fair value. Take a look: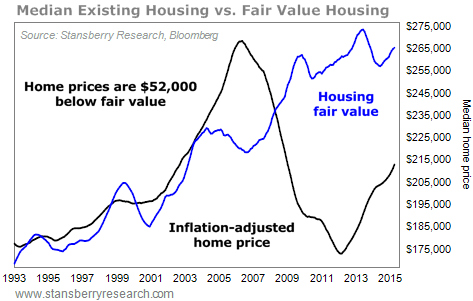 Today, home prices are still $52,000 away from fair value. They need to rise by 25% to get back to fair value (assuming the other two factors don't change).
The move back to fair value is already underway. The good news is, house prices still have plenty of room to run higher, as you can see in the chart.
Think about this: Shelter is primal... and so is its price. House prices are driven by the most basic law in economics: supply and demand.
When supply of something is low and demand is high, prices go up. Higher prices eventually bring out more supply, and the market reaches "equilibrium."
That's the theory anyway... The reality is, housing is driven by greed and fear... Homebuilders don't stop building once we've reached equilibrium. They keep building and building, until we reach the point where we have way too much supply and not enough demand. Then prices fall. That's what happened when housing started to crash seven years ago.
Right now, there's no supply, and there's high demand. That means higher prices are coming.
This is not hard to understand. Housing is much easier to understand than some newfangled technology. It's easy to see if the supply is low. One way is to look at how many new homes have been started. Take a look...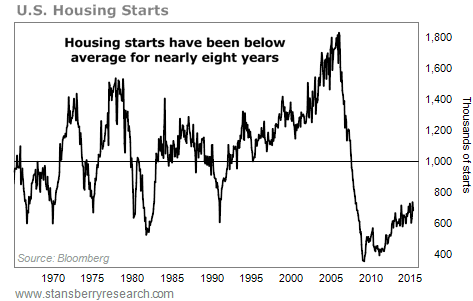 ​

As you can easily see, we've underbuilt for eight years. At this point, basic economics is kicking in – there's not enough housing supply to meet demand. This gives house prices an incredible tailwind today.
In U.S. homes, you own the asset. You own the dirt. And you're buying the house and the dirt after a major crash. So the odds of their value falling from here are low.
The situation is just amazing. To sum it up:
| | |
| --- | --- |
| • | Houses are incredibly affordable right now. |
| | |
| • | House prices are still down from their highs eight years ago. |
| | |
| • | Mortgage rates are not far off of record lows. |
| | |
| • | After seven years of underbuilding, there's no supply. |

The greatest portion of my net worth is in U.S. real estate right now. And I believe this is the best place to put new money to work today.
I urge you to do the same. Please don't miss this once-in-a-lifetime opportunity.
Good investing,
Steve