Bull markets climb the "Wall of Worry."
They begin in the worst times... when no one believes they can. And they climb higher amid a sea of investor fear. But they don't peak until investors lose their fear and become emboldened.
Today, investors are scared. The "Wall of Worry" is still plenty high, as I'll show. And based on our own in-house measure of investor fear, we could see 14% gains in U.S. stocks over the next year.
Let me explain...
Last month, I showed you why U.S. stocks could still end 2015 up
double digits
. Today, there's another positive market signal that points to double-digit gains.
This opportunity comes from our proprietary "Complacency Indicator."
This is an index our team created to see how investors feel about U.S. stocks. Its goal is to gauge when investors are overly complacent... which could trigger a stock market correction.
The index ranges from zero to 100. A reading less than 30 says that investors are overly complacent and we can expect to see a market correction of 10% or more within the coming months.
But importantly, this indicator doesn't just signal market crashes... it can also tell us when stocks are set to outperform.
While a reading less than 30 shows that investors are overly complacent, a reading higher than 60 shows extreme fear in the markets. And as contrarians, that's what we like to see.
The good news is that we're at that level today. Take a look...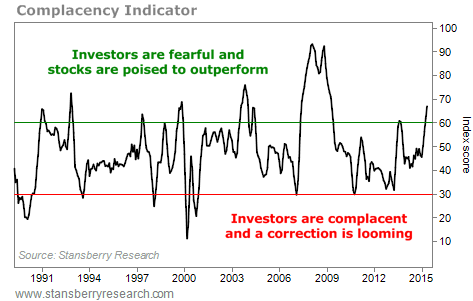 This index has only surpassed a score of 60 eight other times over the past 25 years. And history shows that stocks tend to outperform when that happens.
The table below shows the exact details of those opportunities. Take a look...
S&P 500 Returns

Date

3-Month

6-Month

12-Month

12/31/1990

13.6%

12.4%

26.3%

10/31/1992

4.8%

5.1%

11.7%

6/30/1997

6.0%

12.6%

28.6%

9/30/1999

14.5%

16.8%

12.0%

7/31/2003

6.1%

14.2%

11.3%

5/31/2004

-1.5%

4.7%

6.3%

5/31/2007

-3.7%

-3.2%

-8.5%

8/31/2013

10.6%

13.9%

22.7%

5/29/2015

-

-

-

Average

6.3%

9.6%

13.8%

U.S. stocks average 10% returns in six months after our Complacency Indicator hits 60... and 14% over the next year. These are both far better returns than the typical 4% six-month and 9% one-year returns in stocks.
What's even more impressive is that stocks have only lost money one out of eight times in the year after our Complacency Indicator hit 60... So history says it's highly unlikely stocks will fall over the next year.
Most investors are scared today. They're waiting for the next bear market catalyst. And they expect it soon... But stocks keep climbing that "Wall of Worry."
Our in-house Complacency Indicator says this fear is a good thing for U.S. stocks. And we could see 14% gains over the next year.
Now is not the time to sell. Stay long U.S. stocks.
Good investing,
Brett Eversole