"I've made four offers AT ASKING PRICE," a friend who's trying to buy a home in Florida told me a few days ago, "and I've lost out all four times."
Housing is hot again... In short, there's not enough supply to meet demand.
I've been writing about real estate for years... and my money is where my mouth is. I have way more of my net worth allocated to real estate today than I do to the stock market.
I still recommend buying single-family homes as an investment.
But something I haven't talked about as much is investing in the housing boom through the stock market – buying the companies that build homes. Now is an ideal time to do that, too...
The ideal time to own shares of homebuilders is:
1) When housing supply is low.
2) When the shares of homebuilders are in an uptrend.
Having both of these things happen at the same time isn't that common... We've only been in this situation 6% of the time in the past 50 years (based on our definitions of No. 1 and No. 2). But 97% of the time this did happen, shares of homebuilders were higher two years later.
I define "low supply" in two ways... 1) Housing starts, and 2) months of supply. Let me briefly explain them...
Take a look at housing starts over the past 50 years...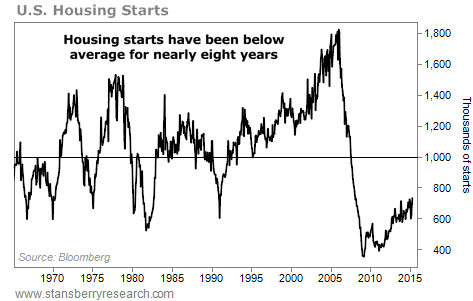 After peaking in 2005, new home construction crashed as the housing bubble popped. Housing starts hit an all-time low in 2009. Importantly, they're still well below long-term normal levels today, as you can see.
Now, after roughly seven years of underbuilding, housing prices are rising today... They're up more than 25% nationwide since bottoming in early 2012.
Buyers have come back to the market, but there aren't enough homes to go around. It's Economics 101... Demand is larger than supply, so prices have nowhere to go but up.
Housing starts aren't the only "supply" indicator we use. We also look at "months of supply."
You might not have heard of this before, but it's a simple concept. Months of supply answers the question... How long would it take to sell the existing new housing inventory given the current sales rate?
If demand is high and supply is low, then "months of supply" falls. Throughout history, a normal housing market has held about six months of supply. But our current market has less than five months of supply – well below "normal."
This is fantastic news for homebuilders. New homes haven't been built and are undersupplied. And homebuilders are the ones who have to build the new homes. Historically, this is when we want to own these companies...
This makes sense. Low supply means homebuilders need to build more homes and sell them at higher prices. That means higher profits, which should translate into investment gains.
If you had bought homebuilders when 1) the trend was up, and 2) the supply was low (based on both measures), you would have made money two years later 97% of the time. This is a rare opportunity, only happening 6% of the time. But it's exactly where we are today.
The easiest way to own homebuilders is with the iShares U.S. Home Construction Fund (ITB).
Shares of ITB are up 13% so far in 2015, while the S&P 500 is flat.
To sum up, ITB is in a strong uptrend right now. And that – combined with low supply – makes now the perfect time to buy. Don't miss this opportunity.
Good investing,
Steve