I'd just eaten breakfast one-on-one with legendary big-wave surfer Laird Hamilton...
The guy is an icon... He's the inventor of stand-up paddle surfing. He's much wiser than you might imagine... and he's one of my heroes.
I knew my time with Laird was limited, so I wanted to cram all of my ideas into our breakfast.
I got all the ideas in... But they had less of an impact than I was hoping, to be honest.
What did I do wrong? I must have done something wrong... but I wasn't sure what I would have done differently.
Less than an hour later, I found out the RIGHT way to start a relationship with someone like Laird, from another one of my heroes – Svein Rasmussen.
Svein owns Starboard Windsurfing – the world-leading windsurfing and stand-up paddleboard company. Svein has that "Einstein twinkle" in his eye. His energy is infectious, and he always has interesting ideas brewing.
After my breakfast with Laird, I caught up with Svein. He spent 20 minutes telling me about some extraordinary work he's done (trying to keep our oceans clean). He's put hundreds of hours into it, if not thousands. His ideas were original, well thought out, and they were already underway.
I knew the topic was important to Laird as well, so I introduced Svein and Laird to each other. They knew all about each other, but they hadn't talked before.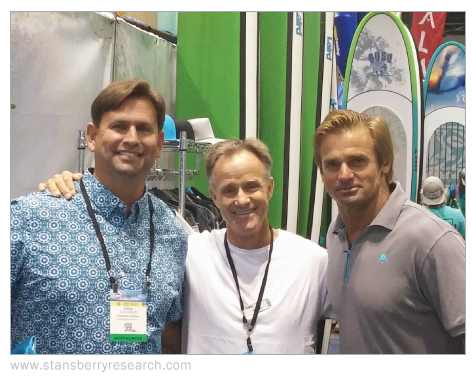 Me with Starboard owner Svein Rasmussen (middle)
and legendary surfer Laird Hamilton (right).

I was all set for Svein to dazzle Laird by telling him all the extraordinary things he's done. Instead, Svein took a completely different approach...

"What do you see as the biggest problem?" Svein asked Laird.
Laird talked for 10 minutes about the problems of keeping our oceans clean, and how users of the ocean like us have the biggest responsibility to take care of it. Svein listened intently. He didn't interrupt to share his version of the problem. He waited for Laird to finish.
After 10 minutes, Svein finally spoke up. Again, I thought he was going to dazzle Laird with all of the extraordinary work he had done. I thought Svein would ask Laird for help in his mission. Instead, he simply asked Laird another question:
"What do you see as the solution?" Svein asked.
Once again, Laird talked for 10 minutes, sharing some good ideas. Svein jotted down notes. He didn't interrupt.
Then the tables turned... Svein had listened intently for 20 minutes. At this point, Laird said to Svein, "What's your take on this?"
It was finally Svein's turn. "Finally, here comes the dazzling part," I thought.
I was wrong again...
"You've got it right, Laird," Svein said. "How can we work together to solve this?"
Laird and Svein are two of the very biggest names in their sport. They agreed that the two of them working together would be more powerful than each of them working separately.
At that point, time ran out on them... People were tugging for their attention from a bunch of different directions. They traded contact information, and went their separate ways.
In my opinion, Svein and Laird cemented an important relationship.
The interesting part, to me was, in 20 minutes, Svein didn't say much more than three basic things:
| | |
| --- | --- |
| 1. | What do you see as the problem? (Let him talk.) |
| 2. | What do you see as the solution? (Let him talk.) |
| 3. | How can we work together to solve it? (Let him talk.) |

Earlier that morning, at breakfast, I didn't do this with Laird. I talked too much. I believe the ideas I shared with him were important – but I didn't share them in the right way.
Svein did it the right way...
He didn't force a single one of his ideas on Laird. He didn't feel the need to brag about everything he had done.
Instead, he genuinely offered to help solve someone's problem for them – asking nothing in return.
Svein showed remarkable humility and restraint. He listened intently. He offered help. And he likely earned a lifelong friend. At the very least, it was a great start.
To me, it was the best way I've seen to start an important, genuine relationship – and it only took three questions...
| | |
| --- | --- |
| 1. | What do you see as the problem? (Let him talk.) |
| 2. | What do you see as the solution? (Let him talk.) |
| 3. | How can we work together to solve it? (Let him talk.) |

Relationship started. Lesson learned. Thank you, Svein.
Sincerely,
Steve