Building wealth is all about being patient and staying committed...
If your strategy works, sticking to it will pay off. No single trade will make you or break you.
This idea is crucial to your long-term success as an investor.
As I'll show you today, if you want to grow your wealth meaningfully over time, there are three principles you must understand...
Principle 1: You Will Have Losers in the Stock Market
My Retirement Trader newsletter has one of the highest win percentages in the business. We've made money on 93% of the positions we've closed since we started the service in 2010.
That's an incredible number. But it's not 100%. Losers are inevitable. No system in the world can guarantee 100% winners. In fact, using most trading methods, a win rate of 60% would be great. (It's the way we use options that gives us such a high win percentage.)
But one or two losing trades along the way won't wreck your portfolio (as long as you're using
correct position sizing
). You make your progress over time.
Principle 2: Stock Market Moves Are Unpredictable, so Be Prepared
In Retirement Trader, we do the research to pick the best stocks in the market.
We don't pick struggling businesses trying to turn things around. We don't pick high-growth businesses that need to outperform expectations every quarter to justify their high valuations.
We stick to high-quality stocks with reasonable valuations and strong businesses.
Even so, these businesses operate in the real world. Sometimes unpredictable things happen in the markets that can shock your stocks.
Investors in burrito chain Chipotle Mexican Grill (CMG) couldn't do anything to predict the food-poisoning outbreak that tanked shares. Investors in banking giant JPMorgan (JPM) couldn't have known a "rogue trader" would cost the investment bank $2 billion in trading losses in 2012. And health insurance firm Anthem's (ANTM) announcement came as a similar surprise.
Our strategy has another benefit, though, that keeps us prepared...
Principle 3: We Have a Leg Up on Others With Our Option Trading
When you buy a stock, you accept the possibility that its price will drop. You just have to deal with it.
But not if you're an options trader. We know a stock can drop. But we have the flexibility to turn that position into a winner.
For example, we recommended energy icon ExxonMobil (XOM) last year, shortly before oil prices fell.
The stock took a nosedive, and by fall the position looked like it might end up a loser... but we kept selling options on the stock, earning more and more income. Retirement Trader subscribers who opened an XOM position on our original recommendation have generated more than $1,000 in income per options contract and another $219 in dividends for every 100 shares they own.
That's not too bad... In the chart below, you can see how they racked up steady income even as the stock struggled to rebound from its summer swoon.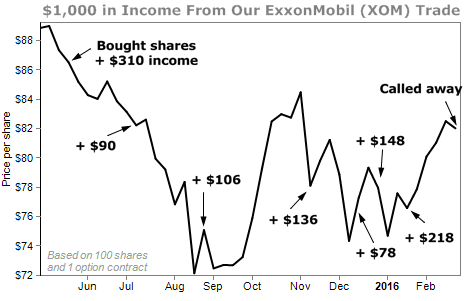 And on option-expiration day, XOM shares closed well above the $76.50 strike price. So our shares were called away, and we earned about 3.3% on the position... even though the stock is still trading for less than when we first opened the position.
Do you know how the overall stock market did over the same period? It was down 9.2%.
Stocks move up and down. And you can't control or predict what they'll do from day to day.
But by remembering these three trading principles and sticking to a smart strategy, you can turn even down moves into profits.
Here's to our health, wealth, and a great retirement,
Dr. David Eifrig