Venezuela is out of beer...
Uh-oh. The real crisis in Venezuela is about to begin. I'm not kidding...
Venezuela's beer maker is the country's largest private company. It stopped beer production at the last of its four plants on Friday. In short, the government won't let it use its money to import malted barley.
No money, no barley. No barley, no beer.
It might sound funny, but this is a far worse sign than you can imagine...
When I started traveling to remote places in Latin America in the early 1990s, I learned one silly truth: No matter where in the world you are, you can always find a cold beer.
I remember staying with a family for a few days in the middle of nowhere in Nicaragua in 1992. At the time, Nicaraguans had absolutely nothing. Hardly any possessions. The room I stayed in had a dirt floor.
They didn't have electricity... but somehow, this family always managed to have cold beer.
"Now, how is that?" I wondered. Even though I don't drink, I took note of it, because it seemed pretty extreme.
As I traveled to more countries, I realized that no matter where you are, you are never far from a cold beer.
"What would happen if the beer was gone?" I wondered.
I thought that was only a hypothetical question... Of course, the beer would never be gone...
I remember driving for miles in Venezuela's "desert" – the Medanos de Coro (the Sand Hills of Coro). There was nothing for miles...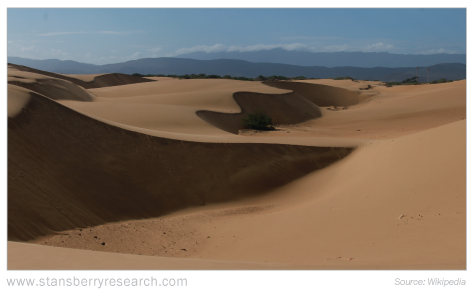 Then, on the side of the road, we saw a little white building...
As we drove closer, you could see the little building was well-maintained. A polar bear was painted on the side of the building...
At first, you might think a polar bear is a bizarre choice for a beer mascot... until you're in the heat of the Venezuelan desert. The white building sells one product – Polar Beer.
"Polar," my American buddy said to the only person in the building.
"Que?" the Venezuelan guy asked, standing with a thousand cold beers behind him.
"Pole-ER," my buddy Rick said, adding emphasis.
"Que?" the guy asked again.
Rick motioned over to me in the car... "Steve, can you help me out? This guy doesn't understand me."
I walked up to the guy and said, "Po-LAAAR," in my best Spanish accent (rolling the "R" at the end, even though I wasn't sure if I was supposed to or not).
"Ah! Po-LAAR! Why didn't you say so!" the guy said to me (in Spanish).
In the Sand Hills in Venezuela... Rick got his cold beer.
It proved, yet again, that no matter where you are, you are never far from a cold beer.
But today, for the first time in my memory, that statement won't be true...
The situation is so dire in Venezuela, you can no longer get your cold beer. As an article in Forbes explained...
It's not because people don't have the money to buy it. Polar, the local manufacturer, can sell all it is able to make. It's not because Polar can't make money doing so either: the company makes a good profit making and selling beer. Nope, it's purely and only because [President] Maduro and the other Chavistas are entirely incompetent at the management of an economy.

Bingo. Nail, meet head.
It's government mismanagement – to the extreme. And the results are ugly.
Last week, I told you Venezuela's government was
too broke to print its own money
... and that government employees' workweek is now down to two days, because Venezuela isn't able to produce enough energy. (The weekend now starts Tuesday afternoon.)
This is the country with the world's largest proven oil reserves – and it can't produce energy
.
If being out of money and out of energy weren't strong enough signs the country is in collapse... we've now reached a point I'd never thought we'd see...
The beer is gone!
"The power crisis is likely to be President Maduro's undoing," the experts say. They shouldn't underestimate the beer crisis. It's the surest sign yet. Venezuela is a disaster, and about to descend into chaos.
I expect it will get worse before it gets better.
Avoid Venezuela as an investment...
Good investing,
Steve