Investors are betting BIG against U.S. stocks...
Should you be betting against U.S. stocks, too?
Do they know something you don't know?
No, and no!
Here's why...
Huge bets against the stock market are a classic contrarian buy signal... In plain English, when EVERYONE is doing one thing in the markets, you should consider doing the opposite.
Let me show you today's bearish extreme – and show you what happened the last time we saw the exact same bearish extreme in 2011.
Here are the details:
Investors have added more than $1 billion to one particular trade this year... Specifically, assets in the most popular inverse exchange-traded fund (ETF) in the stock market are up more than $1 billion this year.
Investors haven't been this bearish since October 2011, according to this extreme.
Importantly, after that October 2011 extreme, the S&P 500 soared 51% over the following two years.
We might not see 51% gains over the next two years. But this extreme shows that investors are extremely bearish on U.S. stocks. And history tells us this is a pretty good contrarian buy signal.
The simplest way investors can bet against the stock market is by using ETFs that return the inverse of the overall market. That means the funds return the opposite of the daily change in the S&P 500. So if stocks fall 1% in a day, these funds should rise 1%.
The largest of these inverse stock market funds is the ProShares Short S&P 500 Fund (SH).
This fund has fallen dramatically in value – by more than 50% – in just the past five years.
You might think that after a 50% fall, investors would start to flee from a fund like this. The reality is, the opposite has happened... Investor money in SH is now bumping up against all-time highs, last seen in 2011.
This chart tells the story...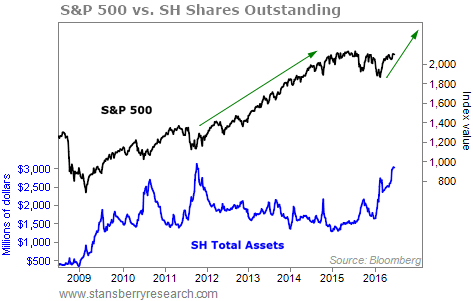 It's the overall stock market versus the total assets of SH. (Total assets are the share price multiplied by the total share count. ETFs create and liquidate shares based on demand. An increasing share count shows investors are putting new money into an idea. In this case, they're betting against the S&P 500 by buying SH, which increases the fund's total assets.) In 2011, the stock market fell by 19%, and assets in SH soared. After that, stocks rose 51% over the next five years.

Interestingly, as you can see today, bearish bets in SH have reached levels not seen since 2011 – even without a preceding fall in stock prices.
We can't promise a repeat of the 51% gain in two years that we saw last time around. But this extreme shows us the degree of negativity in the markets today.
Investors aren't euphoric. They don't expect to make money. Instead, they're betting against stocks at an extreme level.
This type of action doesn't happen at market peaks. It's yet another sign the market has plenty of room to run higher.
Just because everyone is scared of stocks doesn't mean you need to get out, too. If anything, it means the opposite. Now is a great contrarian "buy" moment.
Good investing,
Steve