Last week, Bill Gross – the Bond King – told Bloomberg Television "it's too risky" in government bonds right now.
In short, interest rates have gone down too far, too fast.
While the "smart" money (like Bill Gross) is avoiding buying bonds today, the "dumb" money (like mutual-fund buyers) piled into them last week in the wake of the "Brexit."
(Specifically, bond funds had inflows of $14.4 billion last week, according to EPFR Global.)
Where do you side? With the smart money, or the dumb money?
With so many fears around the world, investors have fled to supposedly safe government bonds... which pushes interest rates lower.
You might not have noticed... But all of a sudden, long-term interest rates have crashed to the downside.
Take a look at this one-year chart of the interest rate on the 30-year U.S. Treasury bond...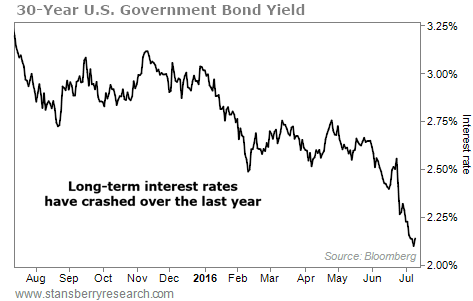 Long-term interest rates have fallen from 3.2% to 2.1% in the last year. That's a 34% decline!
And this isn't some obscure number I'm talking about here... This is the U.S. government bond.
This massive fall in interest rates is thanks to investor fear... Investors are now buying government bonds for safety.
We've hit an extreme in the short term. The dumb money is "all in."
The thing is, when the entire herd is putting its money into one investment, there's no money left to be made there.
(For example, when the herd bought property in 2008, there was nobody left to buy. That meant there was no demand... and prices fell. It's the same story in bonds today.)
The dumb money is about to get hurt, likely starting soon, in bonds.
For reference, during similar extremes in the past, interest rates have typically shot higher over the next 12 to 18 months.
You have to go back 18 years, to 1998, to find a moment when investors were as convinced as they are today about lower interest rates (based on bets in the futures markets in 30-year Treasury bonds).
In 1998, the interest rate on the 30-year Treasury bond bottomed at 4.7%. Then it rose more than 2 percentage points higher – to more than 6.7% – in 15 months.
It's not just government bonds...
The "dumb" money has also been piling into high-grade corporate bonds and junk bonds. Just last week, a record $2 billion flowed into LQD – the most popular corporate-bond exchange-traded fund. That's a weekly record – by more than a billion dollars.
I introduced the idea of betting on higher interest rates (and lower bond prices) to my True Wealth readers last month. We still haven't seen the start of the uptrend... So we haven't pulled the trigger just yet. But we look forward to it soon.
Instead of placing our bets today, we are going to wait for the uptrend in long-term interest rates... We are going to wait for confirmation of our idea here before we step in to take advantage of it.
I urge you to do the same – wait for rates to begin moving higher before you consider betting against bonds. But more important, I urge you to NOT buy bonds now – of any kind.
"It's too risky." Chances are good you'll lose money as bond prices fall in the coming months...
Good investing,
Steve