It was the worst cross-country American road trip ever.
In 1919, shortly after World War I, a U.S. Army convoy of about 80 vehicles and 300 men started out from Washington, D.C. to San Francisco. It took the group more than two months to travel 3,250 miles – at a speed averaging less than six miles per hour.
Half the distance was over dirt roads, desert sands, and mountain trails. Trucks overturned, ran off the road, and sank in quicksand – the Army recorded more than 200 such accidents. A young Dwight D. Eisenhower, then a lieutenant colonel, went along as a Tank Corps observer. He later cited his experience to persuade Congress to pass the Federal-Aid Highway Act of 1956.
Today, the Interstate System crisscrosses the U.S. with more than 46,000 miles of high-speed roads. It slashed transportation time between major cities... sparked a boom in road travel... and changed the way our economy works.
Highways allowed folks to move out of the urban centers, driving the postwar suburbanization population shift. This ramped up home ownership – the biggest single asset of many American households.
Today, we'll examine one of my favorite ways to invest in real estate...
Real estate has been the No. 1 wealth-builder for Americans for years. In a country with an economy driven by free-spending consumers, most families treat their home as their biggest savings account.
Real estate makes sense as an investment. It's scarce. Individuals can borrow cheaply to buy it. It's a productive asset, meaning it can be rented out or lived in. And the best-performing index over the last 15 years is the Dow Jones Equity REIT Index. It has compounded at 11% per year – despite its 70% crash when the housing bubble popped...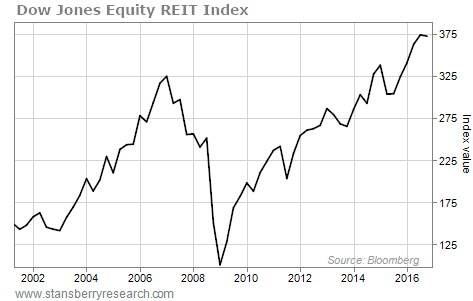 Real estate investment trusts (REITs) let us take advantage of the wealth-building power of real estate without the downsides.
With REITs, you can diversify between scores of properties with a single share, rather than needing to put hundreds of thousands of dollars into a single home. You can sell your shares in minutes with a simple broker's fee. You don't need to find tenants, collect rent checks, or do any maintenance work.
REITs follow a simple equation of supply and demand. When more tenants need to rent real estate and there's less of it around, prices rise and property owners earn more money. That's what is happening right now, driving profitability up.
More jobs mean more profits for REITs. When people get hired, they want offices or industrial space to work in. Not only is unemployment at 4.9%, but the total number of employed people has been rising, and even the labor force participation rate has risen from a 30-year low.
And when folks start making money and the economy gets better, they move out of their parents' basements and into their own apartments. Over the last year, the average monthly new-household formation has averaged more than 1 million. Three years ago, it was 832,000.
Meanwhile, construction is only now starting to pick up. After the property boom between 2004 and 2007, construction spending collapsed. New buildings didn't get built. But demand for buildings has grown. We've added 20 million new people to the country in the last decade, according to the Census Bureau.
This growing demand and stagnant supply has led to higher occupancy rates – currently at more than 93% across all REITs, according to the National Association of REITs.
And when properties are full, landlords have more pricing power. In fact, rents on residential apartments are up 16% over five years, according to real estate data provider Reis.
Best of all, REITs still pay a reasonable yield. The MSCI U.S. REIT Index yields around 4.4%... far more than the 10-year U.S. Treasury securities, which yield around 1.6%. That's why I recently recommended a pair of REITs to my Income Intelligence subscribers... and why you should consider adding some REITs to your portfolio today.
Here's to our health, wealth, and a great retirement,
Dr. David Eifrig