The difference between the "long term" and the "short term" can be staggering.
In the case of gold, the long-term picture is fantastic. Money printing and ultra-low interest rates make higher gold prices likely over the next few years.
But the short-term picture is dangerous.
Specifically, after a strong move this year, investors are overly bullish on gold prices. They're actually more bullish on gold today than they were in 2011 when gold hit an all-time high. And that makes buying gold a dangerous bet right now.
Let me explain...
It's not surprising that investors are jumping on the bandwagon for gold. The metal is up 26% this year.
What's crazy is just how bullish investors are right now.
We can see this by looking at the Commitment of Traders ("COT") report for gold. The COT is a weekly report that shows what futures traders are doing with their money.
The COT is a great contrarian indicator. Essentially, when investors all bet on one outcome, the opposite tends to occur. So the COT helps us see when a trade is too popular... And we can use that information to make the opposite bet.
Right now, futures traders are betting big on higher gold prices. The chart below shows it...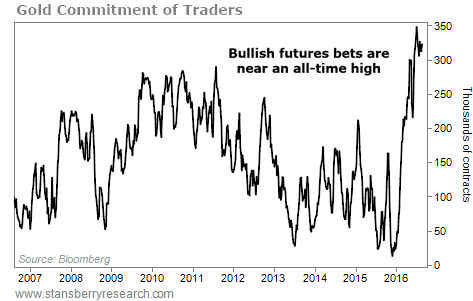 Bullish futures bets on gold are coming off their highest numbers in history. They even broke through the record bullish levels we saw in 2011 as gold reached its all-time high.
Does this mean gold has to crash? Of course not. But it tells us this is now a popular trade. And the futures market isn't the only place we see this sentiment.
The same is true in the largest gold exchange-traded fund ("ETF") – the SPDR Gold Shares Fund (GLD). ETFs, like GLD, create and liquidate shares based on demand. So a rising share count shows investors are interested in owning gold.
That's exactly what has happened this year. GLD's shares outstanding are up 51% since December. Take a look...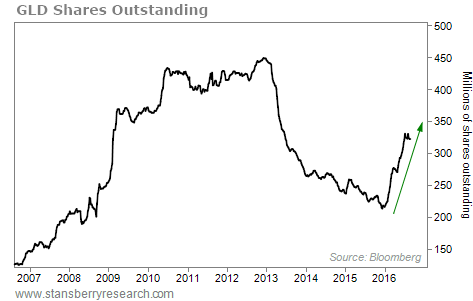 GLD's shares outstanding aren't quite back to their pre-crash highs... But they've soared as gold has moved higher in price. It's another sign that investors are excited to own the metal today.
So what does this all mean?
To me, there are two possible outcomes...
| | |
| --- | --- |
| 1. | Gold moves sideways and investors slowly lose interest. |
| | |
| --- | --- |
| 2. | Gold falls 5%-10% quickly and bandwagon investors flee. |

Either way, the short-term picture for gold is dangerous. And there's simply no reason to put new money to work right now.
I still believe in gold in the long term. But if you're thinking about buying, you'll likely get a better chance in a few months.
Good investing,
Brett Eversole