In nearly 20 years of firsthand market experience and a dozen years of helping tens of thousands of individual investors, I've learned there is one thing that threatens our investment success more than anything.
I'm going to illustrate it for you with a personal story...
Back in July 2014, I bought fast-food giant McDonald's (MCD) at around $94 a share. The risk looked low and my indicators suggested it had room to run.
Indeed, shares headed higher. I was up around 25% before I finally got stopped out on June 28 of this year during the volatility that followed the "Brexit" vote.
I got stopped out of the trade by $0.08. Yet despite my frustration, I never questioned my decision to sell, even though I only stopped out by pennies and the stock popped right back up.
But the market tested my patience even more...
Over the next three weeks, MCD shares rose more than 10%, from $116 to $128 with hardly a single down day the whole time...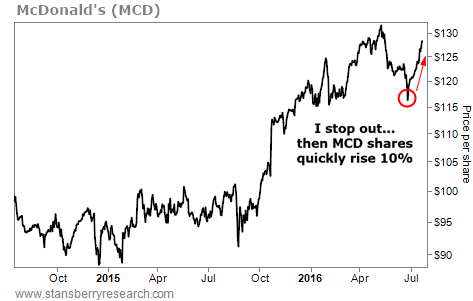 Did I regret getting stopped out? Did this cause me to question using a stop loss? Not at all. I didn't give it a second thought.
You see, I've spent years studying investor behavior and emotion... And one emotion stands out above all others as the single biggest threat to our investment success: the fear of regret.
Notice that I didn't say "regret." I said "the fear of regret."
The fear of regret prompts us not to sell when we hit our stops.
What happened with my MCD trade is every stop-loss believer's worst nightmare. You stop out of a position by pennies... Then the stock rips 10% higher without taking a breather and makes you feel like a fool.
Right? Wrong.
My MCD trade was a good trade. I stayed in the position for almost two years – nearly two times longer than the average investor's position today. I made more than 25% (including dividends).
As a matter of fact, I was happy to stop out of the trade. That's my goal with every trade...
I want to hold on to a position until it hits its stop.
Over the years, I've learned the hard way that this is the best way to consistently make money in the stock market.
Did I leave some money on the table? Maybe. But it doesn't matter. What matters more than the outcome of a single trade is that I have a system for making investment decisions without the fear of regret. My system puts the odds in my favor... and I follow it.
The fear of regret is the biggest obstacle to our investment success. Overcoming it is the easiest way to improve your returns.
Good investing,
Richard M. Smith, PhD