"I personally sold all my gold stocks yesterday," I announced to the crowd of hundreds at the Sprott Natural Resource Symposium at the end of July.
My timing was nearly perfect... The price of gold peaked just a couple of days later.
The story was the same with silver...
"Expect double-digit losses in silver by the end of 2016," I wrote
at the end of July
here in
DailyWealth
. A couple of days later, the price of silver peaked as well.
Since then, gold and silver have fallen apart...
Gold fell eight days in a row recently, and it is now below its 200-day moving average (a common signal of a bear market). Silver is just as bad... My prediction for double-digit losses has already come true, and it has only been 11 weeks.
The carnage in precious metals investments has been terrible. The question is, has it been terrible enough?
Have the losses in gold and silver been punishing enough to create a short-term buying opportunity?
We hold gold for the long term in my investment letters (though we did sell half of our position in gold stocks for a 100% gain in seven months, which turned out great in hindsight).
But what about the short term? Has the recent terrible performance created a short-term buying opportunity?
In short, NO. Not yet...
Investors still LOVE gold stocks – and that's the problem. When everyone has bought, nobody is left to buy... nobody is left to push prices dramatically higher.
I measure this by looking at the movement of REAL dollars to see what investors are thinking. And real dollars are still flowing into gold stocks...
For example... This week, we reached a record high in the shares outstanding of the leading gold-stock exchange-traded fund (GDX). In other words, more money wants to be in this fund than ever.
The same is true with the price of gold itself... Large speculators in the futures markets are still overly committed to bets on higher gold prices. Take a look...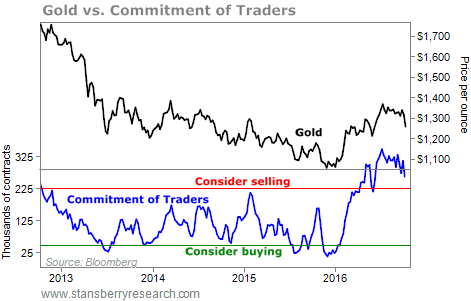 Typically, you want to consider selling when bets are extreme like they are today. Like I said, when nobody is left to buy, nobody is left to push prices much higher.
The chart for silver is the same... Large speculators haven't given up on silver yet, either.
Personally, I look forward to getting back into gold and gold stocks with my own money... They have fallen, a lot, and I believe we're at the early stages of a major long-term bull market in gold stocks.
But even after such a fall, and even with my long-term outlook, I personally can't get excited just yet...
As you know, ideally I want to buy what's cheap, hated, and in an uptrend.
Unfortunately, gold is still loved... And it's still in a downtrend.
With those two things against me, I can't step up and trade gold today.
I will let you know when the right time finally arrives... but we aren't there yet.
Good investing,
Steve