U.S. stocks are only a few points away from new all-time highs... But not every part of the U.S. market has been thriving.
Health care stocks recently fell 12% from their August highs to their pre-election lows... hitting an eight-month low in the process.
Have they bottomed? Is it time to buy? Or is this the beginning of a major downtrend?
Let's take a closer look and find out...
Health care stocks were falling before the election, when Hillary Clinton was expected to win.
The stock market expected things would stay "status quo" with Obamacare, and it didn't think that would be good for health care companies' profits.
Then, the election result surprised the markets. Trump was elected, and the sector soared.
So where do we go from here?
History says more gains are likely. Specifically, double-digit gains are possible over the next year.
Let me explain...
Two weeks ago, the Health Care Select Sector SPDR Fund (XLV) fell to an eight-month low. Take a look...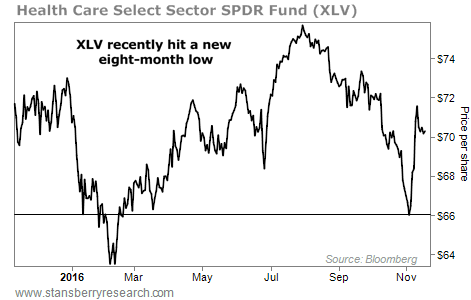 New eight-month lows don't happen often. But look at what came next. After hitting their low, health care stocks turned upward... And they jumped nearly 4% the day after Trump was elected.
This upward trend isn't surprising. It's what tends to happen after a new eight-month low in health care stocks.
We've only seen new eight-month lows in XLV 10 other times going back to 2000. And they often end with a big reversal like we're already seeing. Take a look...
| | | |
| --- | --- | --- |
| | 3-Month | 1-Year |
| After Extreme | 4.2% | 10.0% |
| All Periods | 1.2% | 4.8% |

Since 2000, we tracked the gains that you would have seen if you used a "buy and hold" strategy. Health care stocks were typically up 1.2% over three months and 4.8% over the course of a year. But after an eight-month low, the typical returns were much higher.
XLV gained 4.2% over three months and 10% the year after similar multi-month lows in the past. This might not sound like much, but it's actually a huge outperformance versus the sector's typical returns.
Health care stocks were one of the market's worst performers going into the election. But now, after an eight-month low, they could be one of the best...
Good investing,
Brett Eversole