I went "whole hog" on a trade in my monthly newsletters, investing in one particular country over the last month.
I'm talking about Japan.
You NEED to be in this trade. Let me briefly explain why...
About a month ago, I recommended Japan in my True Wealth Systems newsletter as my top idea. Not long afterward, I followed that up with a different Japan play, making it my top recommendation in my flagship True Wealth letter.
The reason was simple: We had EVERYTHING we wanted to see in a trade...
Everyone hated Japan – nobody was even paying attention. And Japan was cheap and in the start of an uptrend. That's what I want to see!
Just in the last week, the rest of the investment world has started coming around to my way of thinking...
For example, investment bank Morgan Stanley just went "whole hog" on Japan, according to CNBC.com. "Morgan Stanley 'double upgrades' Japan equities," the news service wrote last week.
Previously, Morgan Stanley had given Japan an "underweight" rating (which means "sell"). Now, it has changed it to an "overweight" rating (which means "buy"). It wasn't just Morgan Stanley... Nomura – Japan's largest brokerage firm – and investment bank JP Morgan have upgraded Japan, too.
My "untold" story about Japan is becoming less untold...
Part of my untold story was that Japan's government will likely purchase a huge amount of Japanese stocks in 2017. The CNBC story reiterated our thesis, saying:
Morgan Stanley... noted that the Bank of Japan was likely to continue its 6 trillion yen ($53.6 billion) in annual purchases of exchange-traded funds (ETFs) under its quantitative easing program. It also expected that Japan's Government Pension Investment Fund (GPIF), the world's largest public pension fund, could buy another $29 billion worth of Japanese equities...

Normally, I don't like government intervention... But in this case, the Japanese government buying stocks will likely protect our downside risk AND embolden local Japanese investors to buy stocks.
The optimal time to buy an investment is 1) when it's hated (or ignored), and 2) when it's starting an uptrend. Japan met this definition perfectly a month ago, as I pointed out to my paid subscribers...
Let me show you...
The stock I recommended back then is the WisdomTree Japan Hedged Equity Fund (DXJ). Take a look at these two charts.
The first chart shows the shares outstanding of DXJ...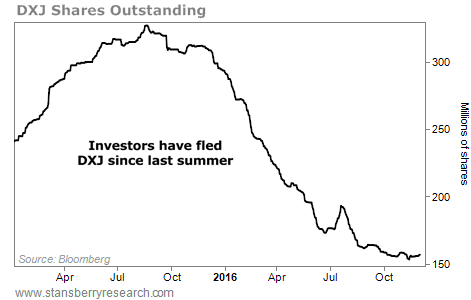 As you can see, investors gave up on this fund from last summer until this fall – when I started writing about it. This chart was one clue that Japanese stocks were hated by U.S. investors.
Now take a look at this next chart. It's a one-year chart of DXJ. You can see that DXJ bottomed over the summer, and it's now in a strong uptrend.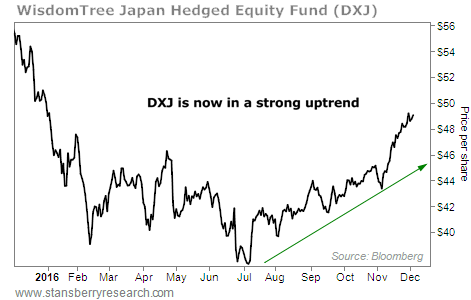 This is the exact setup I want to see.
My paid subscribers got into this trade about a month ago. But there's still plenty of upside potential...
The major brokerage firms are just picking up on this now as their "big idea" for 2017. Japan still meets my investing criteria... It's cheap, hated (ignored), and in the start of an uptrend.
Get on it... now. DXJ is the simplest way to play it.
Good investing,
Steve