The price of oil is up 22% over the last month. More than 9% of that return came in just one day.
That's crazy! After a move like that, oil must be due for a breather, right?
History tells a different story... one that's far more interesting...
In short, larger gains are possible. We could see $70-a-barrel oil over the next year. And 41% gains are possible over the next two years, based on history.
Let me explain...
Oil prices have been all over the place in 2016.
They were in the $20s at the start of the year. They then nearly doubled... And they have bounced around at less than $50 since.
Until the recent breakout, at least.
Oil jumped 9% in a single day. And it's up 22% over the past month. That's a major breakout. Take a look...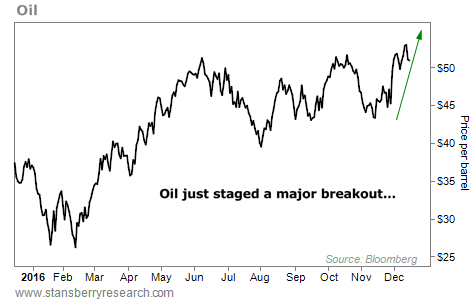 What caused this incredible return?
OPEC – the global oil cartel – recently announced it would cut global oil production. And that dramatically changed the supply-and-demand outlook for oil.
History says it could mean much higher oil prices, starting now.
OPEC's ability to control oil's price isn't what it used to be. But the organization still makes up roughly one-third of the global oil market share... And it controls more than 80% of the world's proven crude-oil reserves (based on OPEC's 2015 estimates).
OPEC has only cut its production a handful of times since 1998. But as the table below shows, production cuts usually lead to higher oil prices. Take a look at the returns...
| | | | |
| --- | --- | --- | --- |
| | | | 2-Year |
| After OPEC Cut | 6.9% | 31.5% | 41% |
| All Periods | 3.2% | 6.4% | 13.3% |

OPEC's production cuts don't happen often – only 14 other times since 1998. But oil prices generally soared after these cuts...
We've seen average one-year gains of 31.5% and average two-year gains of 41%.
A 31.5% gain from here means oil prices would hit $70 sometime next year. And a 41% two-year gain would put oil around $75 a barrel.
That might seem like a crazy move higher. A $75 price is roughly triple the low we saw earlier this year... But it's completely possible, based on history.
The facts here are simple... OPEC agreed to make production cuts. And oil staged a major breakout as a result.
If history is any guide, we should expect much higher oil prices next year. And 41% gains are possible over the next two years.
Good investing,
Brett Eversole