Get to Florida and buy a house. Now.
I'm not kidding. If you wait any longer, you might miss this opportunity. And believe me, you don't want to miss it.
I've personally been buying real estate for years... But the opportunity isn't over. Not even close.
I know what you're thinking...
"Steve, real estate prices have skyrocketed since 2011... Can prices really keep climbing higher?"
The answer is yes. In fact, where I live in northern Florida, houses are downright cheap. And that makes this an opportunity you do not want to miss.
Let me explain...
The median home value in Orlando, Florida is around $161,000, according to Zillow.com. And the median home value in Jacksonville, Florida is $144,000.
I can't tell you that the median home in either of these places is the right home for you, but my point is that Florida real estate is still CHEAP. When I travel the world, I'm stunned by housing prices...
When I was in Shanghai and Beijing last year, I learned that a small apartment – one you wouldn't even want to live in – costs more than $1 million.
And when in Vancouver over the summer, I learned that nearly all houses in the city cost more than $1 million (in Canadian dollars). Compared with Shanghai and Vancouver, they're practically giving away houses in Florida.
Meanwhile, there's no new supply of homes in Florida...
Homebuilding in Florida has been incredibly slow for a very long time now. Take a look...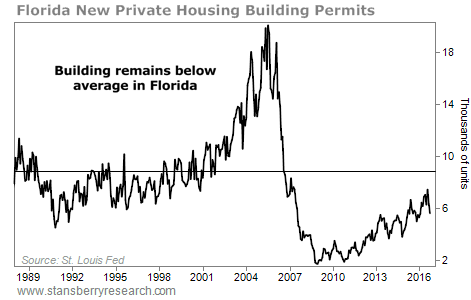 One of the most basic rules of economics is that prices rise when there's a lot of demand and not enough supply. So without enough supply, house prices should rise in Florida.
Florida real estate has so many things going for it: a warm climate, no state income taxes, and typically lots of elbow room (compared with a cramped Manhattan apartment, for example).
Meanwhile, because prices are so low, you can still earn a good yield by renting out a property.
And think about this...
You can bet that a new White House administration – run by real estate mogul Donald Trump – will be extremely friendly to real estate owners and investors. Plus, mortgage rates are still not far from all-time lows. It's a perfect setup.
I'm practicing what I preach here...
With my own money, my largest asset class is Florida real estate – not stocks, bonds, or anything else. (And that excludes my own home.)
Florida is just one example... Much of America's real estate is CHEAP.
But it won't stay this way forever. You should make owning real estate a top priority in 2017.
Good investing,
Steve