2016 was a surprising year...
It was the eighth year of this bull market. But that didn't slow things down.
U.S. stocks jumped 12%. Oil prices soared by 45%. And gold had a wild ride, eventually ending the year up 9%.
With all that happening, you might have missed the major boom that happened in our neighbor to the north... Canada.
Canadian stocks had a fantastic 2016... rising 22%. But history says that boom has gotten out of hand. Double-digit losses are likely this year. And that means now is time to bet against one of 2016's big winners.
Let me explain...
Canadian stocks were a stealth winner last year. The iShares MSCI Canada Fund (EWC) went up 22%... And it soared an incredible 40% from its January low to the end of 2016.
The problem is that Canada's stock market is now incredibly overbought... And that means lower prices are likely.
The idea of a market being "overbought" is simple. It happens when investments get ahead of themselves... when they move too far, too fast.
In this case, I'm talking about EWC's relative strength index (RSI).
The RSI is a measure of an investment's recent gains compared with its recent losses. It turns the market action into a 0-to-100 reading... with 0 being oversold and 100 being overbought.
When the RSI hits overbought conditions – usually more than 70 – it's generally a bad thing going forward. And that's what happened in Canadian stocks recently.
EWC hit an extreme overbought level last month – an RSI of 80. That has only happened one other time in the past decade, in 2014. And it coincided with a major top in Canadian stocks. Take a look...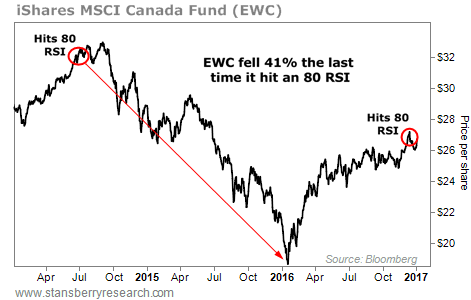 Canadian stocks staged a major crash the last time they were this overbought. Shares of EWC fell 41% over the next 19 months.
That was only one instance. But if we look at less extreme examples, we still see the same thing.
I checked every RSI reading of 75 or more over the last decade for shares of EWC. It turns out that Canadian stocks consistently fall after the RSI rises above and then falls below 75. This table has the full returns...
| | | |
| --- | --- | --- |
| | 6-Month | 1-Year |
| After Extreme | -7.0% | -9.5% |
| All Periods | 0.3% | 0.6% |

Canadian stocks haven't performed well over the past decade. But after hitting an overbought extreme, they perform even worse. Similar overbought extremes led to 7% losses in six months and 9.5% losses over the following year.
Canadian stocks were a big winner last year. But if history is any indication, shares of EWC are due for a correction. And double-digit losses in 2017 are possible.
If you're interested in shorting stocks, history says now is the time to bet against Canadian stocks. Shorting shares of EWC is the simplest way to benefit from a likely correction.
Good investing,
Brett Eversole