It's already happening.
And it came faster than I expected.
The fall in interest rates is here. Right now.
Ten-year government bond rates have already declined from 2.60% last month to just 2.36%, as I write. And the move down is likely not over.
Let me explain...
The reason was simple: Sentiment was at an extreme. The entire investing community was betting on higher interest rates.
The story is timeless. I've seen it over and over again in the investing world. And it typically leads to the same outcome...
When the majority of investors bet one way, the opposite tends to occur. That's what I explained last month. And it's already working out. The fall in interest rates is here.
Again, interest rates on 10-year government bonds have already fallen from a high of 2.60% last month to 2.36% right now... And since lower rates mean higher bond prices, that resulted in a quick 5% gain in the prices of long-term bonds.
The chart below shows the recent upswing in the iShares 20+ Year Treasury Bond Fund (TLT), which holds a basket of long-term U.S. government bonds. Take a look...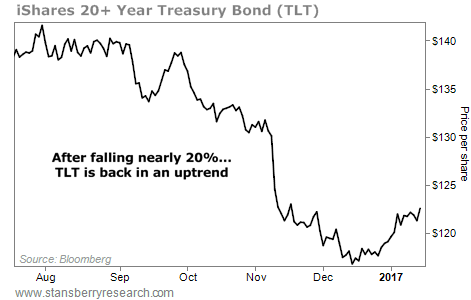 You can see that shares of TLT bottomed last month, about a week before I warned that interest rates would fall.
The trend of lower long-term interest rates is likely to continue for a simple reason...
Sentiment is even more extreme today than it was last month.
To see this, we want to look at what the "smart money" expects for interest rates.
Here's an updated version of the chart we ran last month, showing the Commitment of Traders (COT) report for 10-year government bonds. Take a look...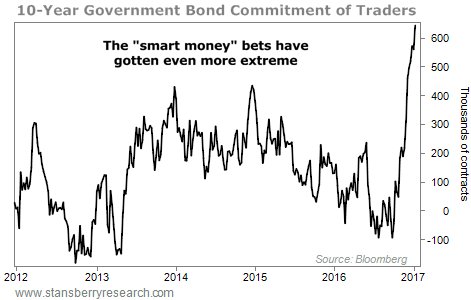 The COT report shows the real-money bets of futures traders (the "smart money" in this case). It tells us what futures traders expect will happen next for government bonds. And right now, the smart money is betting on higher bond prices... which mean lower interest rates.
This indicator had already broken out to a multi-year high when we wrote about it last month... And it has since hit an all-time high.
We saw a similar extreme level of "smart money" bets at the end of 2013. Over the next year or so, 10-year government bond rates fell from around 3% to less than 2%. And shares of TLT rallied 25% over the same time.
The crowd is still predicting higher long-term interest rates. Last month, I predicted the opposite – I predicted that we would see lower long-term interest rates. I got it right... and the latest numbers tell me the trend of lower long-term interest rates will likely continue.
Good investing,
Steve