The education of new investors often follows a similar path...
New investors get interested in the stock market. They think it's just a matter of time before they find some small, unheard-of company that will grow 100 times over, making them rich.
Before long, the investor realizes that investing in small companies is harder than it looks.
Yes, occasionally a tiny stock blossoms into a big winner.
But if you don't have a strategy for choosing the right small companies, it won't be enough to offset all the duds.
Eventually, investors usually learn that the "easy way" to succeed in investing is to buy established, quality companies and hold them for extended periods.
This method of investing is near and dear to me. In my Retirement Millionaire flagship letter, we focus mostly on blue-chip dividend-payers... well-known brand names... and funds with plenty of liquidity. We love their safety and ability to compound wealth over time.
Recommending these large companies and funds is the best way that I can serve my 100,000 subscribers. It's how we ensure that everyone can buy in at a good price.
And yet... small-cap stocks consistently outperform large caps over time.
It makes sense that small and growing companies can be spectacular investments. It's much easier for a company with $10 million in sales to grow sales and profits than it is for a large company that already dominates its market.
When you compare the returns of the S&P 500 (which is all large caps) with the returns of the S&P 600 (a collection of 600 small-cap stocks), you can see that small caps usually outperform...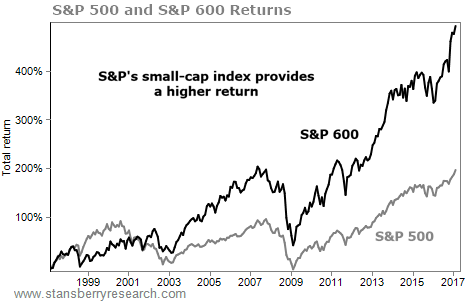 Over the long term, the performance is even more amazing.
If your father (or grandfather, for our younger readers) invested $10 in 1926... it would be worth about $50,000 today if he put it in large caps. But that's just a fraction of what you'd have if he had put the $10 into small caps – more than $2 million!
That's according to data from two University of Chicago economists (one of whom won a Nobel Prize).
This long-term outperformance of smaller companies is well known to big investors...
In fact, legendary investor and Berkshire Hathaway CEO Warren Buffett has bemoaned that he simply has too much money to make the kind of 50%-plus returns he enjoyed when he got his start investing with less than $1 million.
This type of "going small" strategy is a huge advantage that you have as an individual investor... if you're willing to do the work.
It's not easy to find small companies with strong growth prospects. You have to uncover their niche... research the management... study the debt structure... weigh competition risks... and identify whether their growth is sustainable.
The simple solution is to invest in a lot of small companies. This diversifies your risk.
For example, in my Retirement Millionaire newsletter, I recommended buying shares of the iShares Core S&P Small-Cap Fund (IJR) in 2014. Since then, we're up 33%... handily beating the 20% gain in the S&P 500 stock index.
If you focus on established companies like we do at Retirement Millionaire, I'll bet you could use more exposure to small caps in your portfolio. So buying IJR today is a low-cost, one-click way to own hundreds of small- and mid-cap companies. It's a great way to boost returns over the long term compared with large, blue-chip firms.
Of course, there's a more powerful way of discovering and investing in the "go small" opportunity...
Earlier this week, Porter unveiled a way to improve your potential returns even more by investing in hand-picked, small companies with massive growth potential. It's a strategy he's calling the "10x Project."
The sort of returns that you can see by investing in small companies has the potential to dwarf the returns from index funds and large-cap stocks.
That doesn't mean you should buy into something wildly uneconomic and risky... like action-camera maker GoPro (GPRO) or social-blather site Twitter (TWTR). That's not what the 10x Project is about.
Instead, Porter's research shows how you can make safe double-digit gains, year after year, by focusing on the same industries and types of businesses that he recommends in his Stansberry's Investment Advisory newsletter and that I focus on in Retirement Millionaire... with one very important adjustment.
Here's to our health, wealth, and a great retirement,
Dr. David Eifrig