The biggest "fat pitch" of this decade is no longer a fat pitch...
I've been MAXIMUM BULLISH on housing since the bottom of the housing bust. I don't know another analyst who has been more bullish on this one since the beginning.
That changes today – somewhat, at least.
Don't get me wrong... I'm still extremely bullish on U.S. residential real estate.
On a risk-versus-reward basis, I think it's one of the best things Americans can do with their money. (Particularly here in Florida, where I live.) And before it's all over, I think we could see yet another housing bubble, like we saw from 2006 to 2008. I expect those big gains are still ahead... And I'm still FULLY invested.
But as of today, the "free money" is behind us. We've hit the middle innings of this boom. Let me explain...
Before the housing bust in 2010-2011, I'd never invested in U.S. real estate – outside of my home – in my entire career. Real estate was never a "free money" opportunity... until it hit bottom.
I started buying property here in Florida. Investment property went from 0% of my investments in 2010 to the largest percentage of my investments today.
So what's changing now? A lot...
In 2010-2011, homebuilders in Florida practically stopped building new homes. The supply dried up. Meanwhile, families were still having babies. And people were still moving to Florida. I knew the end result had to be higher housing prices. It's Economics 101 – when there's no supply and plenty of demand, prices go up.
Now that situation is starting to reverse. You can see it in this chart of building permits for single-family homes in Florida...
Building permits hit a record high in 2006... then fell to a record low in 2009. But the story is changing... Take a look at the far right of the chart: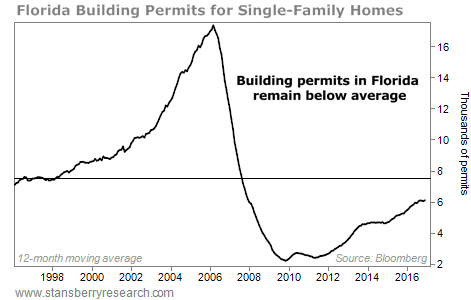 The number of building permits in Florida is still below average. But the massive imbalance between supply and demand that we had a couple of years ago is going away.
Not only this, but optimism is back... both anecdotally and in the hard numbers...
Anecdotally, local realtors that I talk with are having their best February ever. And new homes and neighborhoods are popping up everywhere around here. Who's going to live in all these new homes?
Meanwhile, the numbers show optimism among builders is already not far off from its 2006 peak. Take a look: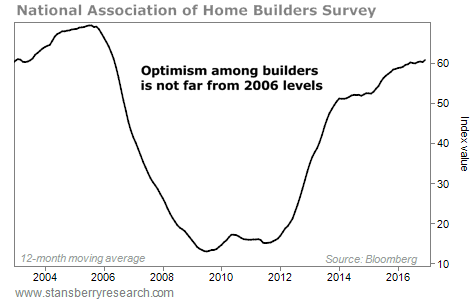 Since the bottom, I've basically told you, "Don't think, just buy."
At that time, we were in the early innings of this new real estate boom.
But now, we're finally in the middle innings...
I'm not saying "get out" just yet. Not at all...
There's still plenty of upside. And the biggest gains tend to happen toward the end of major booms.
But the easy money is behind us now. The middle innings are here. It's finally time to think before you buy...
Good investing,
Steve