Gold stocks are down 11% since February 6... But gold prices are up 1%.
Normally, when gold goes up, gold stocks go up even more... But that doesn't always happen.
Why not? What's going on?
I explained it in late January in my True Wealth newsletter: "For the first time in nearly a year, we have the 'all clear' to buy gold," I wrote.
Note that I said "gold" – not gold stocks.
"Gold stocks are still too loved for my tastes," I wrote later in the issue.
To understand what's going on, we need to make a distinction here between gold buyers and gold-stock buyers. In short, they haven't been behaving the same recently. Here's the full story...
When the price of gold was falling in late 2016, gold buyers gave up on gold – which allowed the price of gold to bottom.
Gold-stock buyers acted differently. They never gave up on gold stocks. Instead, they kept "doubling down" and adding more to their positions.
One way to see it is to look at the actions of investors in the main gold exchange-traded fund (GLD) and the main gold-stock ETF (GDX).
Here's what I wrote in January...
In the case of gold, they're scared. They're taking their money out, and fast. [The shares outstanding have] been declining... falling 18% from last July through today.

Meanwhile, the opposite happened with gold-stock investors...
While gold is hated, gold stocks aren't... not even close. Gold stocks have become more loved as they have fallen in price over the past six months. The chart below shows this phenomenon. It's the shares outstanding for GDX and GDXJ – the two major gold stock ETFs. Take a look...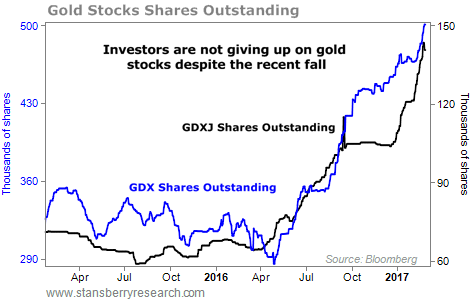 I didn't recommend gold stocks when I recommended gold. I expected we'd see gold stocks struggle to outperform gold. (Of course, I didn't think they'd fall by double digits over the course of a month when gold was up, either.)
As I said in January, "Gold stocks are still too loved for my tastes."
After a month of terrible underperformance, gold stocks are a little bit less loved... but not enough for me to be a buyer just yet.
If you've read my writing for any length of time, you know that I look for things that are not only cheap, but also hated. Gold stocks don't qualify, just yet...
Good investing,
Steve