You can buy Spanish stocks today at 1998 prices...
That's crazy, right? It's rare to see an asset trading for the same price it was 20 years ago. But that's the reality in Spanish stocks right now.
However, this situation won't last for long... Spanish stocks just broke out to a 52-week high. And history says they should continue higher as a result.
Let me explain...
The iShares MSCI Spain Capped Fund (EWP) broke out to a new 52-week high earlier this month. It trades around $30 right now. But here's the crazy thing...
That's the same price it traded for in late 1998... nearly 20 years ago.
Spanish stocks – as measured by EWP – have gone nowhere for 20 years. It's hard to believe, but it's true.
Not surprisingly, Spanish stocks are a better value today than they were in 1998...
EWP trades at a price-to-earnings (P/E) ratio of 17 right now, compared with a P/E ratio of 24 in late 1998. But Spain won't stay cheap for long...
Take a look at what has happened. After falling for most of the past two years, EWP is back in an uptrend...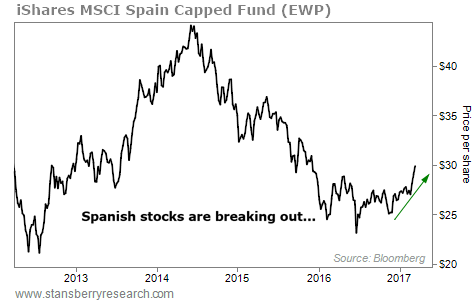 Again, EWP has been hitting new 52-week highs this month. And that means the gains could continue.
We looked at every time EWP reached a 52-week high since 1996. And Spanish stocks tend to outperform after these breakouts. The table below shows the returns...
| | | | |
| --- | --- | --- | --- |
| | 3-Month | 6-Month | 1-Year |
| After extreme | 2.2% | 3.3% | 8.2% |
| All periods | 0.9% | 1.9% | 3.8% |

EWP has produced a small 3.8% annual return since 1996. But buying after breakouts led to much better gains.
Buying when EWP hit a 52-week high led to 3.3% returns in six months and an 8.2% return over the following year. That's double the typical buy-and-hold return in Spanish stocks.
These aren't blockbuster returns. But Spanish stocks are most exciting because of the rare situation they present today...
Spanish stocks are trading at 1998 prices. They just hit a 52-week high. And history says they'll likely outperform as a result.
Now is a smart time to put money to work. And buying shares of EWP is the easiest way to make the trade.
Good investing,
Brett Eversole