One country is taking over the world...
It already has the world's largest population... Soon, it will surpass the United States as the world's biggest economy. In time, it will have the world's largest stock markets, too.
It's not a matter of if, but when...
The total market capitalization of the world's stock markets is now worth more than double what it was 13 years ago. And a lot of that growth has come from China...
Market capitalization (or "market cap") is a measure of the size or value of a company. To find it, you multiply the price of each share by the total number of shares outstanding. (You can also think of this as the price of buying a whole company outright.) "Total market cap" is a measure of all company values worldwide.
From a market cap of around $500 billion in 2004 (about $250 billion less than Apple's market cap today), China has grown to $7 trillion.
The country is now the second-largest economy in the world. And it has come out of nowhere to take second place in the world's market-cap ranking. You can see this laid out in the following table...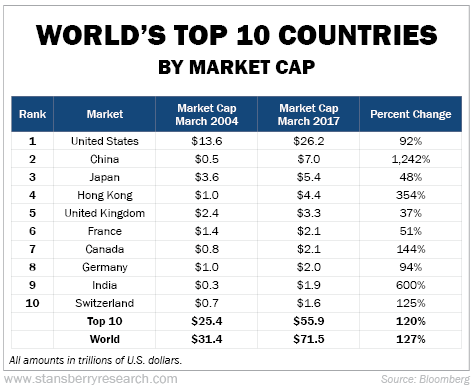 The total value of global stock markets has risen 127% since 2004. Market cap for the whole world now stands at $71.5 trillion. The U.S. has – in absolute terms – accounted for much of that growth, though U.S. markets are up a relatively modest 92%.
Other "developed" markets, like the U.K., France, Canada, and Japan, have seen their market caps grow by much less... The U.K. is up just 37% since 2004. And France has risen 51%. Slow economic growth, eurosclerosis, and endless union and currency troubles have crippled European markets.
But the real story here is China. Since 2004, the country's market cap has grown an incredible 1,242%.
In just 13 years, China's market cap has surpassed every country in Europe. Today, China's stock markets are worth more than those of France, Germany, and Switzerland – combined. European markets are losing their influence.
This tremendous growth in market cap also means that China's markets now account for a much larger share of the world's total, as you can see in the table below...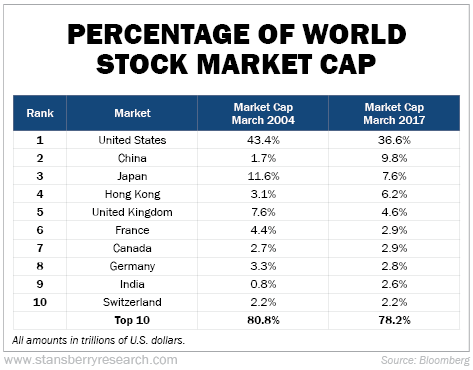 The relative size of American stock markets has fallen sharply. Today, the U.S. accounts for 37% of the world's stock market cap, compared with 43% in 2004. The decline of Europe's markets has been even sharper.
But it has been the opposite for China. In 2004, even tiny Switzerland and sparsely populated Canada had larger stock markets than China, which had 1.7% of the world's market cap at the time. But it now has 9.8% – that's more than five times more in just 13 years.
What does all this tell us?
The center of economic and market gravity has long been shifting toward the East. Though Western economies still pull the most weight, their relative size is shrinking. And this is most visible where investors vote with their feet every day (or, as it happens, with their clicks): the stock market.
The U.S. is still the world's largest economy... for now. Europe is in decline. But China has arrived – and it's only a matter of time before it outstrips the West, in terms of stock market size and more.
China is no longer an "emerging" market. It has already emerged. But that's not the end of the story... In terms of China's economic growth, it could be just the beginning.
Regards,
Kim Iskyan