Online-retail behemoth Amazon (AMZN) is taking its fight against brick-and-mortar retailers to a new level...
According to reports, Amazon has invited some of the world's biggest food and packaged-goods brands to a private meeting at its Seattle headquarters.
On the agenda? Convincing these companies to sell products directly to consumers – using Amazon's online marketplace, of course – and bypassing large retailers like Wal-Mart (WMT), Target (TGT), and Costco Wholesale (COST) altogether. As Bloomberg reported this week...
Executives from General Mills, Mondelez and other packaged goods makers will attend the three-day gathering in May... Amazon is looking to upend relationships between brands and brick-and-mortar stores that for decades have determined how popular products are designed, packaged, and shipped.
If Amazon succeeds, big brands will think less about creating products that stand out in a Wal-Mart aisle. Instead, they'll focus on designing products that can be shipped quickly to customers' doorsteps. Brands have been experimenting with such changes, so the Seattle event may well resonate.
"Times are changing," Amazon says in an invitation obtained by Bloomberg. "Amazon strongly believes that supply chains designed to serve the direct-to-consumer business have the power to bring improved customer experiences and global efficiency. To achieve this requires a major shift in thinking."

The reason is clear: Food and packaged goods are an $800 billion market, according to Bloomberg data. And it is one of the few remaining markets Amazon hasn't been able to steal away from brick-and-mortar stores.
But if Amazon can get these major brands to agree, that may not be the case much longer.
Speaking of Amazon, the company's meteoric rise hasn't just changed the way we shop...
It has also made founder Jeff Bezos among the wealthiest men on the planet.
The 2.1% rise in Amazon shares on Wednesday added another $1.5 billion to Bezos' holdings... officially making him the second-richest person in the world.
Bezos now has a net worth of more than $75 billion... $700 million more than legendary investor Warren Buffett. Only Microsoft founder Bill Gates is worth more.
Switching gears, U.S. bank lending to commercial and industrial companies has ground to a halt...
That's according to the latest data from the Federal Reserve. In fact, lending is now contracting for the first time in six years. As you can see in the following graphic, it has plunged at a 5.4% annualized rate over the past three months...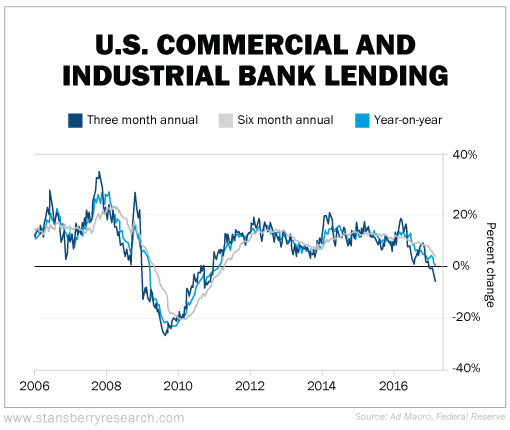 A chart of the much broader market of commercial bank loans and leases is showing similar – though less severe – stress, too...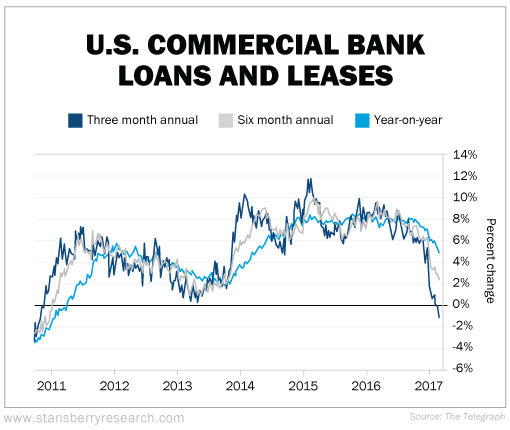 Now, these charts don't give us reason to panic... It's still too soon to know if this is the start of a more significant "tightening" of the credit markets.
But as regular readers know, credit problems tend to precede problems for stocks and the real economy. If this trend continues, it could be an early warning of trouble ahead.
Plus, the market is beginning to wake up to the massive troubles ahead for the rental-car industry...
This week, Bloomberg singled out the recent "panic" selling in shares of Stansberry's Investment Advisory short recommendation Hertz Global (HTZ). From the report...
As investor panic spreads about the plunging prices of used cars in the U.S., one company and its high-profile top investor are enduring the biggest beating: Hertz Global Holdings and billionaire Carl Icahn.
Hertz shares lost one fifth of their value last week, as a troubling reading for a used-vehicle price index was followed by warnings that lender Ally Financial and automaker Ford Motor see more pain to come...
"You have a long list of concerns and you can't give them the benefit of the doubt," Chris Agnew, an analyst at MKM Partners, said in a phone interview. "They're not even giving guidance."
Of course, regular readers shouldn't be surprised...
As Porter explained back in the November 8 Digest, the same day Hertz shares lost half their value in a single trading session...
Today, the leading car-rental business in the world saw its share price fall more than 50% in the first few hours of trading. The collapse erased more than $2 billion from the accounts of some of the world's best investors, including Carl Icahn, who owns more than 12 million shares.
While some of the best investors in the world got hurt by changes they never saw coming in the credit markets, many of our subscribers saw their portfolios increase in value by huge amounts.
This is only the latest example of how our understanding of the credit markets greatly increases our ability to guide investors in the equity market. These credit trends are by far the most powerful force in the stock market. Ironically, however, they're largely invisible to virtually all investors – even the most sophisticated.

Following the latest decline, HTZ is now trading at a new all-time low of less than $18 per share. Stansberry's Investment Advisory subscribers are now up more than 30% on their combined short position in Hertz and Avis Budget (CAR) in less than six months.
Before we wrap things up today, an important announcement...
We're only a few days away from what could be the most important and valuable event in our company's 18-year history.
On Wednesday, April 5 at 8 p.m. Eastern time, the "Metropolitan Man" – who has held just about every high-ranking economic position in the U.S. government – will join us live at our Baltimore headquarters.
At this meeting, the Metropolitan Man will not only reveal himself for the first time... He'll share details on a specific development that could have huge consequences for the markets and the U.S. economy over the next few years.
Regards,
Justin Brill