Precious metals are booming again this year.
Gold is up double digits, and silver is up almost 15%. But the rally in silver is getting ahead of itself.
Futures traders are all over it... They're making extreme bullish bets on higher silver prices. And history says that's a contrarian indicator. Lower silver prices are likely, starting now.
Here are the details...
Silver is up big this year... But it's not a smart bet today. The market quickly hit frothy levels.
You see, futures bets on higher silver prices are at an all-time high based on the Commitment of Traders ("COT") report. This is a warning sign... Precious metals investors need to pay attention.
The COT report is a fantastic contrarian indicator. It tells us exactly what futures traders are doing with their money. And at extremes like we're seeing today, the smart move is to take the opposite side of the trade.
Simply put, traders tend to be wrong at the extremes and right in between. That's because when futures traders are all making the same bet, it signals a crowded trade... And the opposite usually occurs.
Today, futures traders are all betting on higher silver prices. Take a look...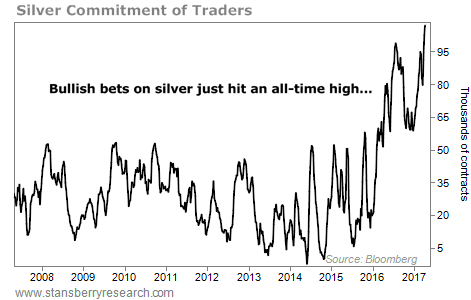 The last time futures traders were this bullish on silver was August 2016. The metal fell 24% over the next four months. Take a look...

Surprisingly, that's the ONLY other time in history that futures traders have been this bullish on silver. And while I'm not calling for a 20% fall in silver prices, a double-digit decline wouldn't be surprising.
Again, futures bets on higher silver prices are at an all-time high. I'd be interested in silver if that script was flipped and futures traders were bearish on silver.
But the contrarian bet today is on a lower silver price.
Importantly, I don't recommend you short silver. It's hard to get these sentiment trades exactly right. But based on this extreme, a sharp pullback in silver is likely in the short term.
If you've profited from the precious metals boom so far in 2017, today is likely a good time to take profits.
Good investing,
Brett Eversole