Japan in the 1980s was one of the greatest booms in stock market history...
Japanese stocks soared 20% a year... for an entire decade... for total returns of 527%.
Today, I believe China is on a similar path to Japan in the 1980s.
So I strongly urge you to get some exposure to Chinese stocks – right now.
The parallels are strong. Let me show you...
During the 1970s and 1980s, Japan's export economy was firing on all cylinders...
Its economy grew an average 5%-plus during this time as the country moved from an emerging to a developed market.
The stock market reflected that growth...
Japan's benchmark TOPIX Index had a solid decade of performance in the 1970s as a result. It increased roughly 10% a year for a total gain of 159%.
Then the fireworks really started...
Japanese stocks doubled that return in the 1980s – increasing 20% a year – for a total return of 527%. Take a look: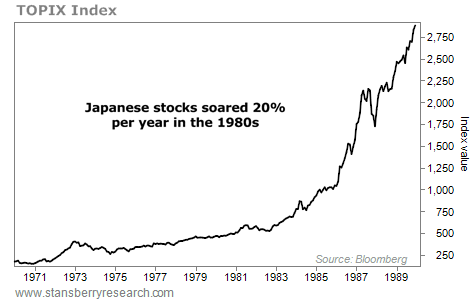 Japan had tons of money coming in from selling its goods overseas... And it wasn't importing nearly as much as it sold. So it had big trade surpluses, like China does today.
Also like present-day China, Japan continued to open its currency system to the world in the 1980s...
In the '70s, the Japanese yen moved from a closed system (where you couldn't freely buy or sell it) to an open system. By the early '80s, the change was complete. Money could freely flow in and out of the country...
The country entered the 1980s with a goal of opening up its economy to the world... And it achieved that goal as the decade went on – with spectacular results for investors.
Today, China is on a similar path...
China is an export-driven economy with multitrillion-dollar currency reserves. In the last few years, it has moved from a tightly-controlled currency system to something more like a "floating" system based on several global currencies. China has a long way to go before its currency is "fully convertible" – meaning it's freely traded. But it has already taken the first steps.
And like Japan in the '80s, China's stock market continues to open up to foreigners...
The Shanghai-Hong Kong Stock Connect and Shenzhen-Hong Kong Stock Connect both allow money to move more freely from Hong Kong H-shares (which the rest of the world can trade) into China local A-shares.
That means A-share investments that were nearly inaccessible to foreigners a few years ago are opening up. And I expect this to continue in the coming years.
The end result of Japan's globalization was a 527% gain over a decade. And I believe we have a similar opportunity in China today.
We want to be on board for that potential boom. If things go as they did in Japan, the upside in Chinese stocks is enormous.
Get at least some of your money invested in China today... The opportunity is too good to miss out on.
Good investing,
Steve