I made a lot of enemies at the end of July last year...
In a room full of hundreds of "gold bugs," I told the crowd that I had personally sold all my gold and gold stocks the day before.
I was the first speaker at the 2016 Sprott Natural Resource Symposium in Vancouver. The attendees thought I was crazy... But in hindsight, it was exactly the right thing to do at the time.
I showed the crowd slide after slide proving that gold had gone from one of its most hated levels in history – in late 2015 – to its most loved level in history in mid-2016. It was the opposite of what I want to see in an investment... I look to buy when assets are hated – when no one else is interested.
Five months after I gave that speech, gold stocks had fallen about 40%.
I thought I wouldn't be invited back to Vancouver to speak. But to my surprise, Rick Rule – a legend in natural resource investing, and the man behind the conference – just asked me to speak again this year.
"What am I going to say this time?" I thought...
I started looking more closely at commodities that the attendees might be interested in... And I may have found a better precious metal than gold today...
I'm talking about platinum...
Platinum just hit its cheapest level EVER relative to gold.
Both metals started 2017 up double digits... Platinum was up nearly 14% at one point. But while gold is still up 9% year to date, platinum is now up less than 5%.
This fall pushed platinum to its cheapest discount ever compared with gold earlier this month... And that likely makes it a better value play than gold right now.
Specifically, platinum trades for a massive 25% discount. This is rare, as you can see in this chart...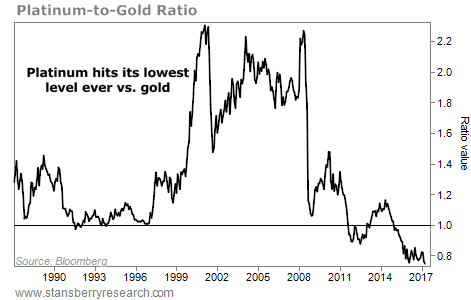 I don't have any particular insight or expertise in platinum.
I just know three things:
1. The downtrend in prices is still in place. So...
2. I am not a buyer yet. However...
3. History says big platinum discounts usually don't last long.

For instance, the platinum-to-gold ratio bottomed in December 1996. After that, platinum went from trading at a razor-thin discount to a premium of 35% in less than two years.
More recently, the ratio bottomed in July 2012 with platinum at a 12% discount to gold. Again, the metal went on to surge higher, hitting a 16% premium to gold by May 2014.
So history says that this discount will unwind. But it can actually happen in two different ways...
1. The gold price could fall, or...
2. Platinum could soar to catch up with the gold price today.

Either way, platinum is now at its cheapest discount ever compared with gold.
This is potentially a major opportunity... And history says it likely won't last long.
I'm not a buyer yet, because we don't have the uptrend. But I am now watching platinum closely...
Good investing,
Steve