Bull markets don't die of old age.
Yes, we are in the late innings of the second-longest bull market in history. And yes, it will eventually come to an end. But that doesn't mean we will wake up tomorrow to a massive crash on our hands.
I believe the opposite is true... that we're in the middle of a massive "Melt Up" in U.S. stocks. It's the final push higher in this bull market. And it can lead to quick but enormous gains.
Today, I'll share another reason why I believe the Melt Up is here. You see, a leading economic indicator just hit a new all-time high. And history tells us this is another strong reason to own U.S. stocks now.
Here are the details...
Stocks and the economy don't work like most folks believe. Investors make the largest gains by buying stocks when the economy is doing terribly... like in 2009.
However, bull markets tend not to end until the economy begins to lag. And this indicator says that hasn't started yet.
The Conference Board Leading Economic Index for the U.S. looks at 10 different economic indicators... everything from employment, to housing, to interest rates.
Historically, recessions tend to happen after these leading indicators start a downtrend. This index began to fall before every major recession since 1970.
It has given only one false signal – when it started to fall in 1966, and no recession materialized. That's an incredible track record with over 50 years of data.
We looked at what this indicator is saying today... And the answer might surprise you. It's giving the "all clear" sign.
The index recently broke out to its highest level in history. Take a look...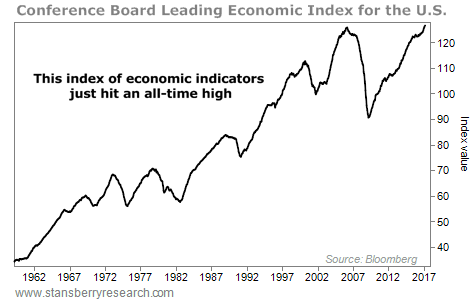 The index just reached its highest level since the 2008 bust.
You might think that seems like a warning sign. You might think it can't be a good thing for stocks...
That's the easy thing to believe. But history says we have no need to worry.
Since 1959, U.S. stocks have returned 8.4% a year when this indicator is in an uptrend, like it is today. This is when we want to own stocks.
The opposite is also true... When this indicator falls into a downtrend, U.S. stocks return just 2.4% a year.
In short, this index of leading indicators is in an uptrend today. And that means we want to own U.S. stocks.
I believe we're in the final stages of this bull market. I know that makes many investors nervous... But missing this final Melt-Up stage could cost you dearly.
This is where the biggest gains are made. I urge you not to miss out.
The U.S. economy is still in good shape. And until that changes, my recommendation is to continue owning U.S. stocks.
Good investing,
Steve