Did you see it happen?
Have you noticed the most important trend in finance this year?
Most folks haven't. They have no idea what's going on...
They completely missed this enormous shift. They have no idea that for the first time in years, the U.S. dollar is crashing.
This is an enormous change from the past few years. And history tells us that the losses will likely continue...
The U.S. dollar was a major story in recent years. The rally in the U.S. dollar, that is.
The buck rose 40%-plus from early 2011 to the end of 2016. It was a massive uptrend with huge implications for the global economy. But 2017 has seen a huge reversal.
The first six months of 2017 was the worst six-month stretch for the dollar since 2011.
The dollar is down more than 8% in total in 2017. That's a huge move for the world's reserve currency. And it led to something we haven't seen in a while...
On July 21, the U.S. dollar hit a new 52-week low. That's the first 52-week low we've seen in the dollar in more than a year.
The dollar bull market has major chinks in its armor. You can see this clearly in the chart below. Take a look...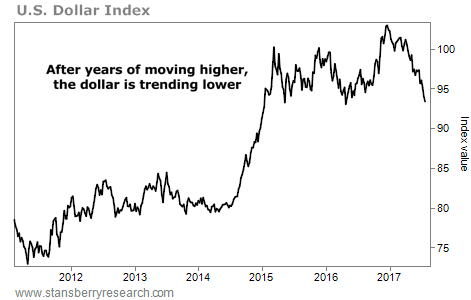 The chart shows the U.S. Dollar Index, which compares the dollar's value with a basket of other currencies. And as you can see, a new downtrend appears to be in place.
That doesn't mean we'll see an additional 20% decline all the way down to 2011 levels. But history says further losses are likely.
Specifically, the dollar tends to keep falling after hitting a new 52-week low. The table below shows the returns...
| | | | |
| --- | --- | --- | --- |
| | 6-Month | 1-Year | 2-Year |
| After extreme | | | |
| All periods | | | |

The table shows data going back to 1967. The dollar is down 22% since then, so the currency has a slightly downward bias. Still, the declines tend to be much worse after 52-week lows.
After new 52-week lows, the dollar has fallen 1.3% in six months, 2.9% over the next year, and 4.8% over the next two years.
Those aren't massive downside numbers. But currencies tend to move slowly. The dollar is already down more than 8% from its recent high... Another 5% decline would solidify a significant downtrend.
No one has been talking about this major shift. But movement in the dollar has huge implications...
It affects overseas investments, U.S. companies with international sales, and prices of commodities, for starters.
Now, a falling dollar isn't explicitly good or bad for stocks. But we're seeing a major shift in the dollar. The long-term trend could be reversing.
That makes this a shift you'll want to track closely in the coming months.
Good investing,
Brett Eversole