There's the "silver" level... the "gold" level... and then what?
You tell me... What level is above gold?
You already know... From Obamacare to your frequent-flyer miles, the level above gold is "platinum."
The real precious metals typically work that way, too. But today, we're seeing something different.
I first wrote about this idea in the January 2016 issue of my True Wealth newsletter.
Platinum traded at a $250 discount to gold back then. We used that setup to make a 35% profit in seven months by buying platinum. (The price of platinum then fell for four-and-a-half months after we got out.)
Now, it's time for the sequel...
Here's where we stand with precious metals prices today...
| | |
| --- | --- |
| Precious Metal | Price |
| Gold | $1,267 |
| Platinum | $947 |

In January 2016, platinum traded at a $250 discount to gold... Today, the gap is even wider at $320.
How could this be?
Platinum is supposed to be worth more than gold – it's harder to get out of the ground, and more "exclusive" in jewelry stores.
And normally, it is more expensive... But today it's not. Right now, platinum is cheap – trading at its biggest discount to gold ever. Take a look: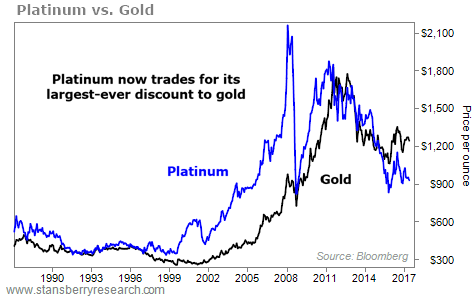 It is a true extreme for platinum. Did you ever think you'd see the day where platinum – the "Rolls-Royce" of precious metals – would be worth so much less than gold?
What's going on here?
One explanation is that platinum is more like a typical commodity than a precious metal. And commodity prices in general have been falling. Take a look: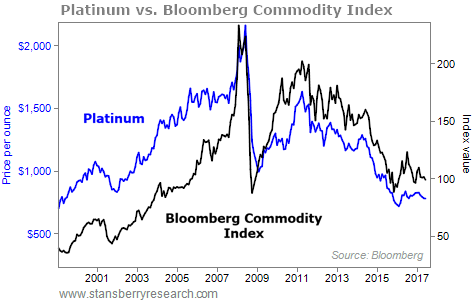 As you can see, platinum has been acting more like a commodity than a precious metal in recent years.
Even though 28% of 2016 platinum production was used to make jewelry, platinum has real industrial uses. Platinum is much more affected by economic cycles than gold.
Car manufacturers used 42% of the platinum supply (specifically for catalytic converters). The remainder is used in other industrial applications.
So should we think of platinum as the Rolls-Royce of precious metals, or as a commodity? The answer is, you should think of it as both...
This chart below tells the story more clearly... It shows platinum versus an index that is made up of 50% gold and 50% commodities: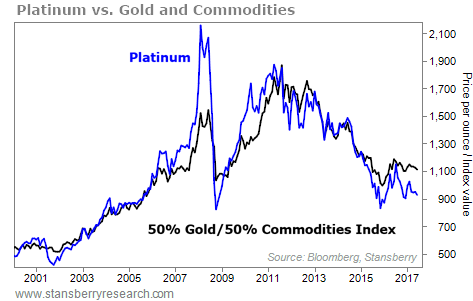 This simple 50/50 index tells the full story: Platinum tracks the trends in both precious metals and commodities.
Based on this index, you can see that platinum is trading at a massive discount. It's cheap.
A setup like this doesn't come around often... Platinum has rarely traded at a discount to gold.
And this discount won't last long... The last time we saw this happen was in January of 2016, and that massive discount went away in just seven months.
While we don't know exactly how far platinum could soar this time, my True Wealth readers locked in 35% gains last time. And history says big gains are possible once again.
Good investing,
Steve Sjuggerud