It's official – investors have borrowed more cash than ever to buy stocks...
We're talking nearly $600 billion borrowed "on margin" – when you add up the margin debt on the New York Stock Exchange (NYSE) and Nasdaq stock markets.
It's more money than investors borrowed at the peak of the dot-com boom in 2000. And more money than the 2007 peak just before the global financial crisis.
That sounds scary, right?
Many "experts" who are looking for a reason for the market to go down might point to it as a sign of the top. But is it something to worry about? Let's take a look...
This chart shows the NYSE's margin debt versus the S&P 500 Index. You can see that we're now at an all-time high... above previous highs when stocks peaked in 2000 and 2007.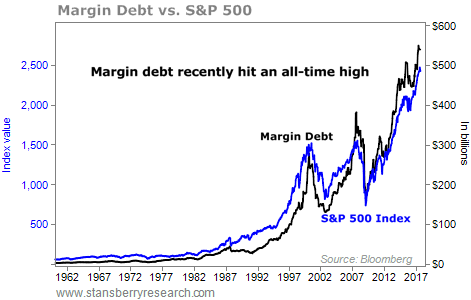 At a glance, you might think that the high margin debt could have caused those crashes... or made them worse. But that's not really the case.
Let's look at it another way to see it more clearly...
Here's a chart of the annual change in NYSE margin debt.
You can see that the use of debt to buy stocks spiked right around the market peaks in 2000 and 2007. And it bottomed out two years later.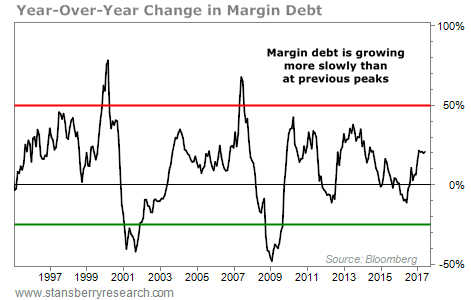 Those two peaks in the yearly change in margin debt are much better indicators of danger than what you see in the first chart. (And those bottoms in 2001 and 2009 would have been much better buying opportunities.)
That's not quite enough to go on as a trading strategy. But this chart does tell us that we don't need to worry about margin debt (at least not yet). As you can see, today's reading is nowhere near the last two peaks.
Another way to look at total margin debt is relative to the total size of the market.
Margin debt levels have historically fluctuated between 1% and 2% of the overall value of the stock market. Those percentages don't move around much, even though the actual overall margin debt goes up and down.
Right now, while margin debt is at an all-time high, we're still at less than 2% margin on the overall market.
In short, margin debt is high. But by itself, that's no reason to sell U.S. stocks. It's not a sign of danger – yet.
Many investors are scared of the markets right now. They're looking for any excuse to sell. Margin debt will be one of their excuses.
Don't believe 'em. You now know the real story...
Good investing,
Steve