Former Fed Chairman Alan Greenspan is worried...
Greenspan believes that the bond market is about to begin a dramatic correction. And current sentiment says he could be right.
The market hasn't been this in love with government bonds in years. And government bonds fell 15%-plus the last two times we saw similar sentiment.
That means that this "safe" asset could be a major loser to finish the year.
Let me explain...
Alan Greenspan has seen his share of market cycles. He was chairman of the Federal Reserve from 1987 to 2006. But he has mostly stayed out of the news in recent years...
That is, until a few weeks ago. The market for U.S. government bonds has caught his attention.
Greenspan told Bloomberg TV, "Real long-term interest rates are much too low and therefore unsustainable."
The 10-year government bond rates have been less than 3% since 2014. Greenspan doesn't think that can last. And he has said that when rates begin rising, they are "likely to move reasonably fast."
Greenspan's idea is a long-term prediction. And we can't know for sure if he'll be right over the next decade.
But history says he will likely be right over the next few months.
Right now, the investing crowd is all betting that rates will fall even further from here... The Commitment of Traders (COT) report makes that clear.
The COT report shows us what bets futures traders are making right now on government bonds.
This is a fantastic short-term contrarian tool. When everyone is making the same bet, we want to do the opposite.
Right now, the COT report shows that futures speculators are all betting on higher bond prices and lower rates – the opposite of Greenspan's long-term belief. Take a look...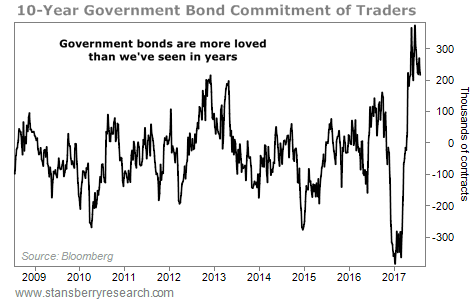 You can see that 10-year government bond speculators are all bullish on bonds.
They expect interest rates to fall while bond prices move higher. And the degree of their bets is extreme.
The last time we saw a similar level was September 2016. Back then, the iShares 20+ Year Treasury Bond Fund (TLT) – an exchange-traded fund that tracks long-term government bonds – fell 15% in just around three months.
Like today, bond speculators then were all on one side of the trade... expecting bond prices to rise. But the crowd was wrong.
It was the same story in 2012... TLT fell around 17% from December 2012 to September 2013 after sentiment hit similar levels.
Most folks consider government bonds to be safe investments. But like anything else, buying at the wrong time can lead to serious losses.
Alan Greenspan believes bonds are in a bubble. He believes rates are about to rise... which means bond prices will fall.
We don't know if he'll be right over the next few years. But sentiment says the next few months, at least, could see major losses.
A 15% decline to end the year is completely possible. And that makes U.S. government bonds an asset to avoid today.
Good investing,
Brett Eversole