We've spent a lot of time
discussing Steve's
big stock market calls of late
...
And for good reason... He has been on an absolute tear.
Across his three publications – True Wealth, True Wealth Systems, and True Wealth China Opportunities – readers are currently up double digits or better on most of his broad market recommendations in the U.S., Europe, China, and Japan, among others.
But make no mistake... Steve has continued to find big, contrarian opportunities for his subscribers across the investment world.
For example, in early 2016, Steve alerted subscribers to a huge opportunity in an area of the market most investors had left for dead: the resource sector.
At the time, most commodities were in a brutal bear market. Prices had plunged for nearly five straight years... Most resource stocks had lost 75% of their value or more.
But where many others saw only risk, Steve saw a huge opportunity. As he wrote in the March 2016 issue of True Wealth...
A major sector in the world has fallen more than 75% in less than five years.
This is the biggest, most beaten-down sector on Earth today. And it's one we've discussed before in True Wealth.
I'm talking about the global mining sector... specifically, the major base-metals miners such as Freeport-McMoRan and BHP Billiton.
You know the story... Commodity prices have fallen dramatically, and so have profits for these businesses. Now they're scrambling... selling assets at the bottom of the market. Take a look...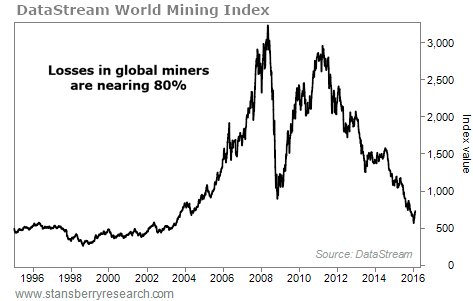 As Steve explained, the long bear market had pushed prices back to 2003 levels... And it was setting up one of Steve's classic "bad to less bad" opportunities. More from the issue...
The biggest gains in investing are made when things go from "bad" to "less bad." It can happen very quickly. Importantly, things don't have to get "great" or even "good." They just have to get a bit better... or "less bad."
The upside here is extraordinary... History tells us everything we need to know...
Mining stocks (as measured by the DataStream Global Mining Index) soared roughly 800% from late 2001 to 2008.
We saw massive gains after the financial crisis in 2008 as well. Commodities boomed, and these companies soared nearly 300% from their 2008 bottom to their 2011 peak.
The great news here is that we could be on the verge of a new uptrend. Hard-hit Freeport-McMoRan is already up 60% since its bottom – last month! BHP and Rio Tinto are also bouncing off their January bottoms. Take a look...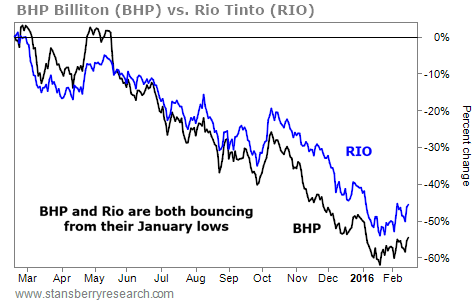 Longtime readers know Steve prefers to wait for a confirmed uptrend before opening a bad-to-less-bad trade...
And while a few mining stocks were moving higher, he wanted to see a broad recovery before calling a bottom.
Steve didn't have to wait long... The next month, the uptrend was confirmed, and he told readers it was time to buy. As he wrote in the April 2016 issue of True Wealth...
The chart below shows the iShares MSCI Global Metals & Mining Producers Fund (PICK). As you can see, we now have a legitimate uptrend. Take a look...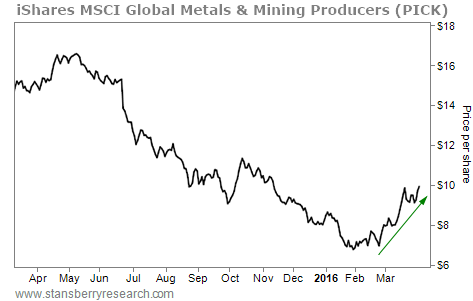 The entire ETF is up 42% since its January bottom. Again, this does not mean we've missed the uptrend. The price is still down – a lot. This strong start is a good sign... It could be the start of the next major "up cycle" in global mining companies.
Steve's timing was nearly perfect...
Metals prices have been trending higher ever since. And as the Wall Street Journal reported this week, the global mining business is suddenly booming again...
The world's biggest miners are on a tear. Fueled by a sharp rise in commodities prices, companies like BHP Billiton, Glencore, and Rio Tinto are flush with cash again, boosting dividends, cutting debt, and shelling out cash for expansion projects. Just a couple of years ago, they were scrambling to survive in the midst of a historic downturn...
An important sign of these companies' renewed health is their falling debt load. As of June, BHP, Rio Tinto, Anglo, and Glencore collectively held net debt of about $44 billion, down about 50% from the end of 2014, according to a review of their earnings reports.
It's a dramatic shift from two years ago, when the mining industry was reeling. Slowing Chinese growth had sent commodity prices sharply lower. Miners loaded up with debt and cut dividends as their share prices sank.
But a surprise rally in the past year in major commodities such as copper, iron ore, and coal has been a windfall, bringing in much needed cash, breathing new life into the beleaguered industry and sparking a rally in mining stocks.

Folks who took Steve's advice are up more than 60% so far. But he believes further gains are likely... He still rates PICK a "buy" in the True Wealth portfolio today.
Meanwhile, in a live event earlier this week, Steve shared his latest thoughts on the bull market in U.S. stocks…
Regular readers know Steve believes the rally is in its final "inning." But he's more convinced than ever that we'll see an explosive final rally –
what he's calling the Melt Up
– that pushes some stocks to unbelievable new highs before it all ends.
And in his presentation Wednesday night, Steve shared all the details about his brand-new "Melt Up Millionaire" project. He says folks who follow this strategy could double their money or better in the next 12 months... And he's so sure of it, he's offering a unique guarantee unlike any we've ever offered before in the history of Stansberry Research.
If the Melt Up Millionaire model portfolio doesn't produce weighted gains of at least 100% in the next 12 months or less... you can apply every penny you pay to any other Stansberry Research product of your choice. And if Steve doesn't meet his goal – even if the portfolio reaches 99% gains in that span – you'll also get a bonus year of his True Wealth Systems service, absolutely free.
If you missed the event, that's OK... It's not too late to take advantage of this one-of-a-kind offer. But you must act soon... This deal won't be available for long. Learn more about Steve's Melt Up Millionaire project
right

here
.
Regards,
Justin Brill