The Canadian dollar has soared 8% this year – which is a big move in the currency markets.
But based on our research, those big gains are likely to end soon...
You see, the Canadian dollar just hit its "most loved" level since 2013. It's now at a sentiment extreme.
We love to see sentiment extremes like this... They're great opportunities for profit. Whenever we see an extreme in sentiment, we look to make money by trading in the opposite direction...
Right now, investors absolutely love the Canadian dollar based on the Commitment of Traders (COT) report – one of our favorite sentiment measures.
The COT report tells us what futures traders are doing with real money. It's a fantastic contrarian tool to figure out what the crowd expects, so we can do the opposite.
You may have heard the old Wall Street saying, "Traders are wrong at the extremes, and right in between." We think that saying is exactly right.
When futures traders all agree on a trade, they tend to get it wrong. If they're all bearish, a rally is likely. And if they're all bullish, like today, lower prices are usually on the way...
Right now, the COT report shows futures traders are as bullish on the Canadian dollar as they've been in four years. Take a look...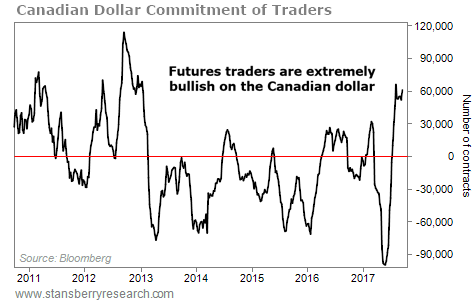 As I said, the last time futures traders were this bullish was early 2013. That time, the currency went on to fall 9% over the next year.
That was no fluke. The Canadian dollar has a history of falling after hitting similar COT levels.
The table below shows the full details. It shows what happened every time the COT rose above and then fell below 65,000 contracts (like it recently did) within the last two decades. Take a look...
| | 1-Year | 2-Year |
| --- | --- | --- |
| After extreme | -3.4% | -7.6% |
| All periods | 0.6% | 1.2% |

These numbers may look small... But they're big declines for a currency.
The Canadian dollar – like most major currencies – doesn't usually make thrilling moves up or down. It has gone up only 13% over the last 20 years.
It has had some major swings along the way, though... including major falls after sentiment extremes like the one we're seeing right now.
As the table shows, the Canadian dollar has typically fallen 3.4% the year after similar COT levels. And it has fallen 7.6% after two years, based on history.
Futures traders love the Canadian dollar right now. To us, that's a bad sign for the Canadian dollar over the next year or so...
Good investing,
Brett Eversole