Everyone's talking bitcoin. It's extremely "loved" by investors right now...
Even though I'm cautious on cryptocurrencies, it's a fascinating idea, worth learning about. And that's why we've shared essays on it over the past several days.
The thing is, when I look at investment opportunities, I pay more attention to what's "hated."
That's where I've found my biggest winners often come from...
Two months ago, in my True Wealth newsletter, we bought an asset that had just reached a record hated level.
We bought near the bottom, as you can see – and now the uptrend has begun. Take a look...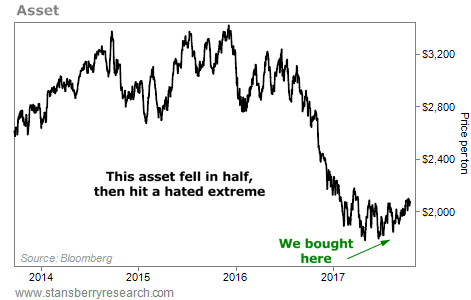 What is this investment?
It's a real asset – a commodity – that will never truly go out of style. I'm talking about cocoa.
Cocoa beans are what makes chocolate special... The beans are dried, fermented, then broken into bits called "nibs." The nibs are then further processed into chocolate.
But nibs, apparently, are facing some setbacks for the moment...
Cocoa prices have fallen nearly in half since 2015. Speculators, worried about the possibility of a saturated market, have gotten out of the trade and driven prices down.
The pessimism surrounding cocoa reached an extreme over the summer. We can see this by looking at the Commitment of Traders (COT) report, a useful measure of what speculators are betting on today. Take a look...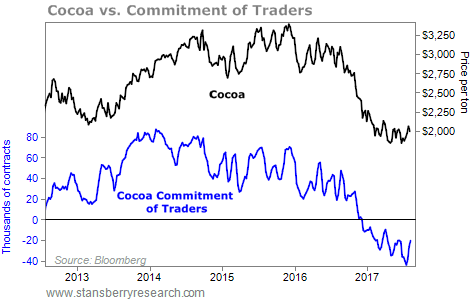 Late in the summer, speculators placed more bets against the price of cocoa than at any time in history. They wanted nothing to do with it.
The thing is, demand for cocoa isn't going away. (It's chocolate!)
I told my True Wealth subscribers two months ago:
We can easily set up a trade with a great risk profile here...
I like to have the potential to make three times the money I'm risking on a trade. We can easily do that here...
Buy the iPath Bloomberg Cocoa Subindex Total Return ETN (NIB). Sell when you're up 30%, or in 12 months' time, whichever comes first. Use a 10% trailing stop.

As you can see from today's charts, you haven't missed the opportunity yet in cocoa...
| | |
| --- | --- |
| • | Cocoa is still near record-levels of being "hated" – which is what we want to see. And... |
| | |
| • | Cocoa's uptrend has just begun. |
If you want to make money, typically your best bet won't be on what's getting the love. You want to find a hated asset.
Cocoa reached a record hated level over the summer. And now it's in an uptrend.
That's the kind of setup you want to take advantage of to be a successful investor...
Good investing,
Steve