The Japanese stock market finished an incredible streak last week...
It was one of the most impressive runs we've ever seen. And it's been nearly 30 years since the Japanese market has come close to what just happened.
This amazing streak helped push Japanese stocks to multiyear highs. But history says the gains are just beginning.
Japanese stocks could soar 18% – and potentially even more – over the next year, thanks to this rare move.
Let me explain...
Longtime readers know we're bullish on Japan.
Just
last week
, my colleague Steve Sjuggerud explained that investors have pulled money out of Japanese stocks at a record pace.
That alone is a fanatically bullish sign. We like to buy assets that are "hated" by investors – that's often where you find the biggest winners. But it's not the only reason Japanese stocks are a great opportunity today...
The Japanese market just finished an amazing streak of gains. The last time we saw a streak like this one was in 1988.
Back then, Japanese stocks were in full-blown bubble mode. They had soared for the better part of a decade. But the gains weren't over...
The Japanese market went on to soar 56% over the next 22 months. And in the nearly three decades since that boom ended, the market still hasn't come back to its 1989 high.
So what just happened that rivals 1988?
Japanese stocks – as measured by the benchmark Nikkei 225 Index – recently moved higher for 16 straight trading sessions. They didn't have a losing day last month until October 25!
It's an amazing streak. You can see it highlighted in the chart below...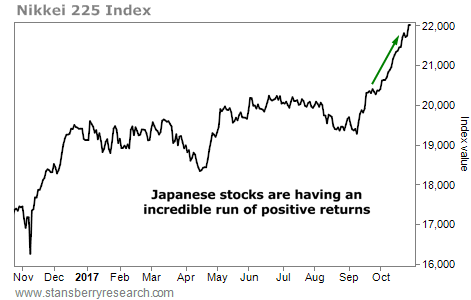 Japanese stocks are up 8% since the streak began. But history says the gains should continue.
Obviously, a streak of 16 up days doesn't happen often. So I looked at each time the Nikkei 225 moved higher for 10 or more consecutive trading days.
That has only happened 10 other times since 1970. And Japanese stocks soared after those instances. Here are the details...
| | | | |
| --- | --- | --- | --- |
| | 3-Month | 6-Month | 1-Year |
| After extreme | 4.0% | 10.0% | 17.9% |
| All periods | 1.2% | 2.4% | 4.8% |

A streak of positive days is a fantastic predictor of future returns in Japan.
It has led to four times the typical six-month return and more than three times the typical one-year return. And it means gains of 10% in six months and 18% in one year are possible, starting now.
Even more impressive, Japanese stocks were positive 80% of the time both six months and a year after these extremes. So we have a high probability of big gains now.
Combine this with the fact that investors aren't interested... that they're pulling money OUT of Japanese stocks... and it's easy to see why Japanese stocks offer a fantastic opportunity today.
History says we could see gains of 18% over the next year. And that makes now a fantastic time to put money to work in Japan.
Good investing,
Brett Eversole