The biotech sector recently fell by 8% in three weeks.
I believe the bust is overdone. And now is a great moment to swoop in and buy...
Biotech was by far the best-performing sector in the last great "Melt Up," when stocks soared at the end of the 1990s bull market. And I expect it will perform well again as today's Melt Up starts to pick up steam...
The main thing most people remember from the great dot-com boom is that tech stocks soared.
But take a look at this chart... It shows that biotech stocks (as measured by the Nasdaq Biotechnology Index) dramatically outperformed tech stocks in the final months of the last great Melt Up.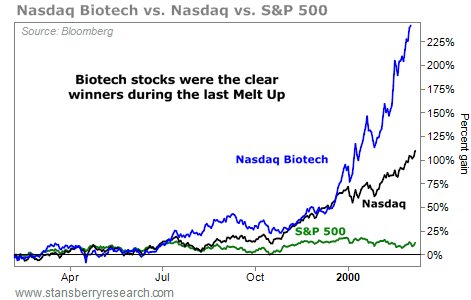 The iShares Nasdaq Biotechnology Fund (IBB) has had a rough few weeks. It's down 8% from its most recent peak. Importantly, that has pushed biotech stocks to an "oversold extreme."
We measure "overbought" or "oversold" levels with the relative strength index ("RSI") – the typical indicator that tells us when an investment has moved too quickly to the upside or downside.
Last week, the RSI in biotech stocks fell to its second-lowest level in the last 10 years.
That begs the question – what happened after the MOST extreme level in the last 10 years?
Biotech stocks hit their biggest oversold extreme on August 8, 2011. After that, they shot up by more than 40% in just six months. You can see it for yourself in this chart...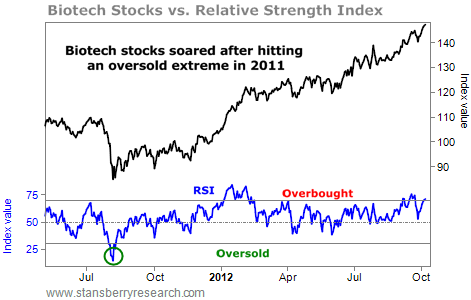 Of course, longtime readers know I don't like to buy into a downtrend. I want to wait for the uptrend to confirm my idea before I get in.
Similarly, with the RSI, I don't want to buy when a stock (or fund) is oversold. That tells me it's hated... But the problem is, it can always get a lot more hated!
So I prefer to wait for an uptrend in the RSI, too... to wait for the oversold extreme to go away.
Fortunately, that's what we're seeing today. The oversold extreme appears to be gone in biotech. It looks like the downtrend might be over, and we could be right at the start of an uptrend. This chart shows the details...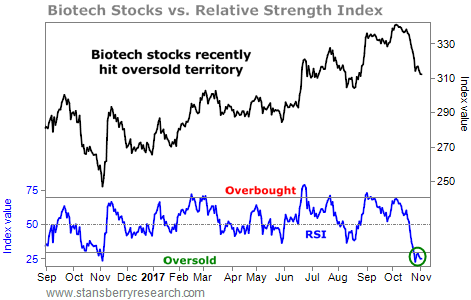 This week, our True Wealth Systems computers went against what I'm telling you today. They said to sell biotech – and they're usually right.
But there are times when I disagree with our computers. This is one of those times. I'm willing to go against them today because I believe this is the right setup – one that's giving us a huge opportunity.
You know I'm a strong believer in what I call the Melt Up. And you know that biotech was a dramatic outperformer in the last great Melt Up. I expect biotech will be a great performer in this Melt Up, as well. So this mini-bust in biotech stocks gives us a great entry point...
This might be your last – and best! – chance to get into biotech stocks before they take off in the Melt Up.
Take advantage of it...
Good investing,
Steve