This is the kind of stock market "divergence" that I like to see...
Master limited partnerships (MLPs) recently fell more than 4% over five days... while oil prices rose.
Whenever I see a crazy divergence like that, I usually ask one question: "What happens next?"
We looked back to see what happened to these companies after previous divergences like this. The results shocked us...
MLPs soared 28% in one year and 53% in the two years following similar divergences. If history repeats (or even rhymes) this time around, then you could make some real money.
Let me start with a brief explanation of MLPs...
MLPs are not oil companies. Instead, they're the gatekeepers and toll collectors in the energy industry. Specifically, they own energy-infrastructure assets like pipelines or storage terminals. And their business structure allows them to avoid paying corporate taxes.
Investors like to buy MLPs for their dividends. Since MLPs don't pay taxes on their earnings at the corporate level – and since most MLPs own steady, cash-gushing assets (like pipelines) – they pay bigger dividends than other companies. The entire MLP sector pays a dividend yield of almost 8% right now.
Importantly, MLP cash flows tend to be stable, regardless of what oil prices are doing.
You might think that with stable cash flows, the price for MLPs in the stock market would be stable too. But it's not... The MLP sector tends to move up and down with oil prices.
This relationship between MLPs and the price of oil has been steady over the past two years... until last month. You can see it on the far right in the chart below...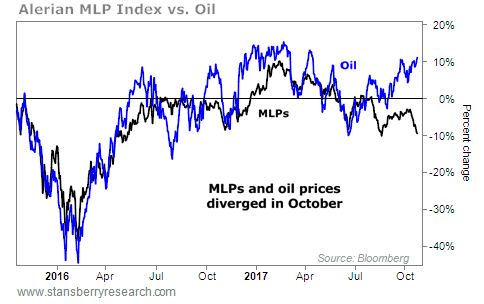 Last month, MLPs fell 4%-plus over five days... while oil prices rose. That doesn't happen often.
This kind of spread has only happened 31 other times in the last 17 years. And when it does, you really want to own MLPs...
The table below shows the returns that came after similar occurrences since 2000...
| | | | | |
| --- | --- | --- | --- | --- |
| | 3-Month | 6-Month | 1-Year | 2-Year |
| After extreme | 9.9% | 15.2% | 28.0% | 52.7% |
| All periods | 3.1% | 6.4% | 13.1% | 27.9% |

Since 2000, MLPs have returned a solid 13.1% a year, including dividends. But that's during normal times...
Buying MLPs after an extreme like we saw last week has led to dramatically higher profits... more than double the "normal" one-year return.
Similar divergences led to 15% gains in six months... 28% gains over a year... and incredible 53% gains over two years.
In short, you want to buy MLPs after they've underperformed the crude-oil price... This gives you a greater likelihood of outperforming going forward as MLP prices "catch up" to oil.
That's the situation we have right now. And it makes the sector especially attractive today.
The easiest way to own it is with the Alerian MLP Fund (AMLP). AMLP holds a basket of these companies. And it pays a nearly 8% yield today.
MLPs can be volatile, and oil is a bit "loved" right now... So MLPs are not on our recommended list for subscribers. But history says they could be a great trade today. If you're interested in profiting from MLPs, be sure to use a trailing stop.
Good investing,
Brian Weepie