You're usually better off betting with history than against it...
But not everything in the stock market has a long history with reliable data. Some occurrences have no history at all. And "this time is different" applies to more than just stocks.
The ideas behind this phrase – and the money you can make or lose with them – can change your life. So let's dig deeper...
Today, we'll look at why folks are so tempted to believe this time is different. We'll look at examples from the past... how they turned out... and what we can learn from them.
The people who say and believe "this time is different" often have one of two main motivations.
The first one is the possibility of gigantic returns...
Take $8 billion online bookseller Amazon (AMZN), for example. In 2002, that's what it was... an online bookseller that had been losing money for its entire five-year history as a publicly traded company.
At the time, an $8 billion company that was steadily losing money seemed absurd. And once the company started making money, its valuation seemed just as crazy. "You'd have to be a fool to buy a company that trades at 125 times earnings," thought lots of serious investors. "You're setting yourself up to get killed."
Amazon has never traded with a price-to-earnings (P/E) ratio below 27. Currently, it's at 287. (For context, the benchmark S&P 500 Index has a P/E ratio of 22 today.)
Value investors knew that to make money in stocks over the long term, you need to buy great businesses at reasonable valuations. But Amazon has defied gravity for the past 20 years.
Since 2002, investors are up more than 10,200%... dwarfing the S&P 500's nearly 210% return over the same span. Take a look at the chart below...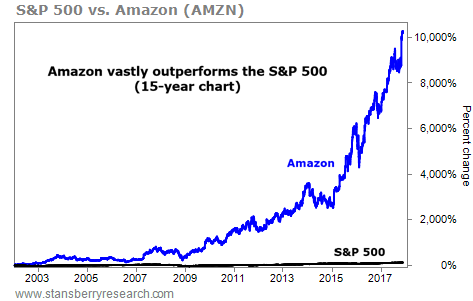 Will Amazon's valuation come back to Earth at some point? Yes... But in this case, laughing at "this time is different" meant missing out on a 102-fold return in 15 years.
We have one clear lesson with Amazon... The question of whether this time is different or not missed the point. Folks made spectacular returns before they even had the answer. Laughing at or avoiding this company has been the wrong move.
In other words, in Amazon's case, this time isn't necessarily different. But it hasn't mattered for so long that investors have been able to make great money.
That's why it's so tempting to believe "this time is different." Betting that it is can sometimes be profitable.
Of course, it often goes the other way. The next example was a belief motivated by fear...
Without getting too deep into the details, "Peak Oil" was the idea that the world's oil production had peaked. It would have had catastrophic consequences... starting with unaffordable oil prices as production declined.
As a result of these predictions, the price of one barrel of oil shot up to $145 in 2008. Now, folks who understand markets know that high prices spur innovations that solve or get around these kinds of issues. And this time was no different...
Lots of Peak Oil believers bet on higher and higher oil prices... And they lost fortunes when they were proven wrong.
We can learn something from "Peak Oil," too...
The folks who believe this time is different can have a big impact on the market. Prices can swing wildly, as if they were right. But most of the time, they're not... So betting on this time being different is dangerous.
In fear-driven cases like this, investors would have been better off waiting for the irrational price movements to stall, then betting the other way.
When you bet that this time is different, the odds are stacked against you. It's rarely a good idea. But rarely doesn't mean never.
Tomorrow, we'll look at current examples where people are betting that this time is different. And we'll look at how to approach these potential investments.
Good trading,
Ben Morris