"I have a huge prediction for you," I told the crowd at our Las Vegas conference for Stansberry Research customers this year.
I've made a habit of making bold predictions at these events.
At last year's conference, I said, "Little-known Tencent will become the world's largest company within five years."
Most people in the room had never heard of the Chinese tech leader. But this year alone, shares of the company are up more than 100%. And Tencent (TCEHY) is now the world's sixth-largest company.
Last year's prediction was a good one. But this year's could be even bigger.
Let me explain...
"This year's prediction," I said, is that "the stock market peak won't arrive until 2019 or even 2020." And I went further...
Even more important, the "Melt Up" isn't even in full swing yet... So I want you to take advantage of it now. Because when we see the flip side of the Melt Up... we could have many, many years of subpar returns – at best.

I know these ideas might sound a bit crazy.
How could the bull market have years left? And how could we NOT be near the peak yet?
These are good questions. The stock market is up around 300% from its lows in March 2009. That's one of the best eight-year runs in the history of stocks.
But it has got to come to an end – and soon – right?
I don't think so. We shouldn't be in too much of a hurry to write this market's death certificate. The reason is simple...
You know what the end of a great bull market looks and feels like.
The real estate boom that peaked a decade ago – that's what the end of a great bull market feels like. People thought home prices could never go down, and folks quit their day jobs to flip houses.
The dot-com boom that ended in 2000 – that's what the end of a great bull market feels like. Cocktail-party chatter shifted from sports to stocks, and my friends quit their "real jobs" and took stock options to join dot-com companies.
Today doesn't feel like those times – yet.
When this stock market boom ends, I expect it will end like previous stock market booms... with individual investors speculating in the most exciting, highest-volatility companies – especially tech stocks.
That's not happening today. The boring fuddy-duddy companies have led to the biggest gains in recent months.
We can see it by looking at the tech-heavy Nasdaq Composite Index versus the "old school" Dow Jones Industrial Average stock index.
The Nasdaq today includes tech leaders like Google's parent company Alphabet (GOOGL), online retailer Amazon (AMZN), and social media site Facebook (FB). The Dow doesn't – it has old-school businesses like industrial giant General Electric (GE), soda titan Coca-Cola (KO), and fast-food chain McDonald's (MCD).
Most people think that all the gains in stocks lately are from the Facebooks and Googles of the world. But it isn't true.
Just look at the Dow and the Nasdaq over the past six months... The boring Dow has delivered a total return of 15%. Meanwhile, the tech-heavy Nasdaq has delivered an 11% return.
That's right... The fuddy-duddy companies have beaten the big tech stocks! Take a look: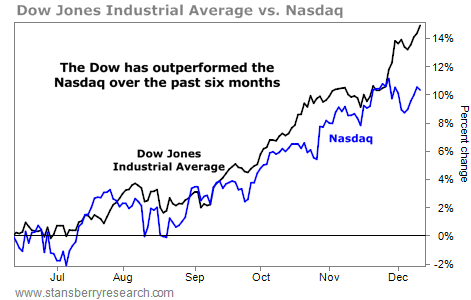 So what conclusion can we draw from this?
It's pretty simple: Yes, stocks have performed fantastically since March 2009. And yes, as I said in October, investors are finally getting back in the market. But no, we are not really seeing the classic Melt Up push yet – where the exciting tech stocks start to break away from the old-school businesses.
We are still not experiencing the final run-up – the time when the extraordinary gains should be made.
The big, fast gains are in front of us, not behind us. You haven't missed the Melt Up yet.
Not only that, but this bull market and eventual Melt Up could last through 2019 or 2020.
Don't write that off as a crazy idea... More than three decades of data prove it. I'll share those details in tomorrow's DailyWealth.
Good investing,
Steve