If you want to make really big returns with your investments, I've found only one thing that works...
You've got to buy when things go from "really bad" to "less bad."
When things are "really bad," that's when you get to buy at bargain prices. If you want triple-digit returns in a short period of time, this is what you must do.
Unfortunately, just about every asset in the world right now has been rising for several years. There simply aren't many "left for dead" places to invest...
But after a lot of digging, I've found one of those places that could make you a lot money. Today, I'll share it with you...
It's an investment theme that was loved 10 years ago... but it's been left for dead for quite a while now. Things are so bad here, these companies might be the worst performing stock group over the last decade. So they're probably cheap now... Great!
I wrote all about it in my March issue of True Wealth, while I was in Australia. In pure coincidence, my good friend Porter Stansberry came up with the exact same idea, at the exact same time, back at company headquarters in Baltimore.
We both told our readers to expect profits of 50% in the next 12 to 24 months, which is terrific upside. On the downside, you're buying these assets at "fire-sale" prices, so your risk is limited. Let me explain...
Back in the late 1990s, the old telecom companies were considered "the backbone of the digital revolution..."
The experts claimed these companies would bring broadband to every home, and make people rich in the process. All we had to do was buy the stocks, and the money would roll in.
I didn't buy into it back then... For one, the math didn't add up. At the time, these big phone companies were losing money for every broadband customer they signed on. To justify their valuations, they relied on sky-high future projections.
We all know what happened... When it came to broadband, the future took a lot longer to get here than everyone thought. Shares of the big phone companies got crushed...
As a group, AT&T, Verizon, BellSouth, and SprintNextel are down about 70% in the last six years. They make up about 85% of the TTH Index, shown here:
TELECOM STOCKS (the TTH index):
ONCE OBLITERATED... THEY'RE FINALLY IN A REAL UPTREND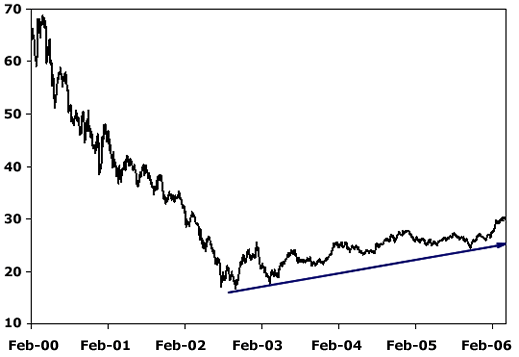 Back in the late 1990s, telecom stocks traded at absolutely ridiculous valuations. Earnings have generally grown since then, but their stock prices have fallen dramatically.
They're finally cheap enough to buy now. I told my True Wealth readers to buy shares of Australia's biggest telephone company Telstra (TLS). Porter told his readers to buy shares of Verizon (VZ). Across these two stocks, the average dividend payable to you is 6%, and the average P/E ratio is 12.
When you buy these two stocks, you collect 6% per year in dividend income. Meanwhile, as these stocks go from "hated" to "less hated," we could make a fast 50% gain. Everyone hates the big old phone companies, so we buy them at fire-sale prices and limit our downside risk.
Remember, we're not buying because they're great... We're buying because we expect they'll simply go from bad to less bad... and that's where the big money is made quickly!
If these big ol' telecoms are good enough for Porter and me to recommend to our paid subscribers, then you ought to at least consider the idea...
Good investing,
Steve