"These are tough times for us..."
Publicly traded companies employ special staff members to put out press releases and communicate with investors. They usually call this staff "Investor Relations." As a stock analyst, I'm often talking to this department. As you'd expect, they're always very careful about what they say to me... and above all, they never mention the weaknesses in their business.
Last week, I spoke to the top investor relations officer at a large company in Canada. This woman told me openly her company was in a deep recession and struggling for survival.
Only after I put the phone down did I realize what was going on. This woman works for a forest products company. Her company has been in recession for so long, she didn't feel the need to sugarcoat the information she gave me.
The Canadian forest industry is one of the most beaten-down industries in the world.
Canadian forest products companies have two large customers: the construction industry and the paper industry. The bear market in real estate has killed demand for lumber. And the Internet has stolen market share from traditional "hardcopy" media like newspapers, telephone directories, and books.
To top it all off, strength in the Canadian dollar has made Canadian forest products feel more expensive to international customers, especially the Americans and the Chinese, and it's hurt sales.
Across the country, hundreds of saw and pulp mills have closed down. Tens of thousands of workers have lost their jobs. Several major companies have gone bankrupt. And the stock market has dragged stock prices of Canadian forestry companies through the mud for several years.
Check out this 15-year chart of Norbord, a Canadian strand-board manufacturer. It tells the story. Strand board is a construction material, similar to plywood, used for roofing and flooring. Norbord is one of the largest strand-board producers in the world...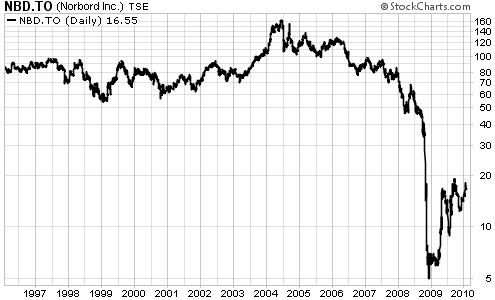 I'm wondering if it's time to start investing in Canadian forest products. For one thing, their stock prices are rising again. You can see this in Norbord's chart. Its price has risen from $5 to $16 in the last year, although it's still a long way from the $160 it reached back in 2004.
But here's what makes me really curious...
Last week, an article in the
Vancouver Sun
reported a sudden surge in logging activity on Vancouver Island, an important region in the Canadian forest products industry...
"Logging trucks are rolling through communities such as Sooke and Lake Cowichan at a pace that has not been seen for a decade," the article said.
"Here we have what's supposed to be a disastrous forest industry, and they are going full-bore," said a local resident. "They are logging the heck out of it."
Could the sudden surge in logging trucks mean the long freeze in the Canadian forest industry is finally over?
In my
12% Letter
, I advised readers to keep away from Canadian forest products companies. These businesses have low margins and consume huge amounts of capital. Most of them are bloated with debt and pension liabilities. I wouldn't touch these companies, even if I were sure the recession had ended.
I advised my readers to buy Canadian timberland instead. One of the benefits of timberland is, if the price isn't right for timber, or if there isn't much demand, you don't have to cut your trees down. You just let them grow bigger and taller. As they say in the industry, you "bank it on the stump."
If the recession has ended, we'll start earning dividends again. If it hasn't ended, we'll "bank it on the stump" and earn our dividends when the market improves.
In sum, forget about Canadian forest products companies. To play the new bull market in Canadian forest products – if that's what it is – you should invest in timberland instead. It's a much safer way to play it.
Good investing,
Tom
P.S.
12% Letter
subscribers bought what's arguably the best-quality timberland in Canada, and possibly North America. We bought this timberland at an amazing price... right on the Toronto Stock Exchange. For full instructions on how to buy this timberland, consider a no-risk trial of my newsletter, the
12% Letter
.