Ed Seykota has a favorite trade...
Seykota is one of the most famous traders in stock market history. He made billions following trends in the commodities and futures markets, starting in the 1970s.
According to Futures magazine, Seykota has returned on average 60% a year for the three-decade span of his career.
In one profile I read about Seykota, he describes how he looks for markets that have gone so far in one direction, they can't possibly go any farther. Then, he bets they'll go farther. In other words, he likes to jump on trends, especially when they seem extended.
"Buying high, selling higher," he calls it.
In all the trading books I've read, nothing sticks in my mind like this piece of trading wisdom from Ed Seykota. It sounds totally counterintuitive to me, and I've never read about a strategy like this anywhere else. He made billions using this technique. We can too, if we're able to use it...
I'm about to show you my favorite "extended trend" trade right now, but before you jump into this trading strategy, there are a few of things you need to know...
First of all, Ed Seykota chases momentum. It's like jumping taxis on Fifth Avenue. You jump in and stay in as long as it's speeding downtown. But as soon as it gets snarled in traffic, you jump out and find another taxi that's speeding downtown. This way, you only put your money into trades that are working. When they stop working, you pull your money out and jump into another trade that's working. Momentum traders rarely hold positions for more than a few weeks.
Second, to make this strategy work, you have to ditch your trade as soon as it stops moving in your direction. In other words, you must use a stop loss. Stop losses protect your capital and make sure you don't get bogged down in a losing trade. A triggered stop loss is a message from the market that says "This trade isn't working, time to find another trade that is."
Finally, these "extended trend" trades can feel extremely uncomfortable. I'm a thrifty person, and I love bargains. I'm much more comfortable, for example, buying a stock that's fallen for many days in a row and selling a stock that's risen for many days in a row. But I've lost money on these setups a thousand times. Now I know the profit is almost always in sticking with the trend.
So what's my favorite "extended trend" trade right now?
It's the stock market. The S&P is in juggernaut mode. As of Monday, it had risen in 26 out of the last 38 trading sessions for a gain of 12% in two months. Investor sentiment indicators like the put-call ratio and "dumb money" confidence show investors are "nosebleed" bullish. Technical indicators for momentum, like the Relative Strength Index, are close to their maximum possible highs.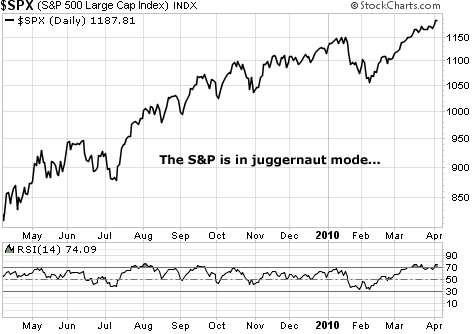 In short, the recent uptrend in the S&P is extremely extended. For a bargain hunter like me, buying into the S&P right now feels almost suicidal... like I'm guaranteed to lose money.
But if my experience... and Ed Seykota's track record... are anything to go by, buying into the stock market's trend right now is likely to be a profitable short-term trade.
Buying a double- or triple-long ETF for the S&P is one way you can make this trade. Or buy stocks that are highly leveraged to the stock market like homebuilders or financial stocks. When the S&P rises, these stocks soar.
Your emotions will tell you not to make this trade. It's too uncomfortable. But it's the right trade if you're looking for a quick, short-term profit. Keep holding as the long as the market is rising and be quick to cut your losses when the trade moves against you...
Good investing,
Tom