Canada is loaded with natural resources... from diamonds, to oil, to timber, to agriculture.
Asia plans to buy them.
This arrangement will likely make Canada one of the richest countries on earth over the next few decades. We're on the hunt for companies that will prosper from this ascent... which is why I took a quick tour of Canada a few weeks ago.
Last Wednesday's DailyWealth featured the first company I visited: Westshore Terminals. Westshore dumps coal from trains, loads it onto ships, and pays investors a 9% dividend.
Today's business is more complicated. It's called the Saskatchewan Wheat Pool (SWP.TO). I was hoping "The Pool," as the locals call it, would be a play on rising grain prices and increasing food demand from Asia.
I met with the investor relations contact in Regina, Saskatchewan... and then toured one of their grain elevators.
The Wheat Pool has two main businesses. One is a retail business selling agricultural products like seeds and fertilizers to farmers. They have 100 stores located in three provinces across Canada's Prairie.
Dealing with the farmers' product is the second part of their business. They store it, clean it, sort it, dry it, transport it, and sell it. This work is carried out from a network of high-tech grain elevators scattered across the Prairie.
Here's the deal: The Saskatchewan Wheat Pool is not a direct play on crop prices. It's a play on the crop business itself. If the business of farming does well, the Wheat Pool does well. Volume drives profits... not prices.
As an aside, the manager at the grain elevator told me he'd never seen crop prices so low at any other time in his 16 years at the company. Contrast this to the experience of the manager I spoke with at the coal terminal. He told me he'd never seen coal prices so high in the 25 years he's been in the coal business.
Times are hard for Canadian Prairie farmers. A three-year drought from 2001 to 2003 was followed by another poor season in 2004, when an untimely frost reduced the quality of the harvest.
The industry has consolidated. Many of the grain elevators in the small towns are no longer in use. The elevators used to be the center of the social scene in the small prairie towns. They attracted activity and commerce. Not any more. The railroad stopped servicing the branch lines.
My guide told me that the Wheat Pool almost fell into bankruptcy during these lean years. They only managed to escape by completely restructuring their debt... turning most of it into stock. The stock price has fallen by over 90% since 2000.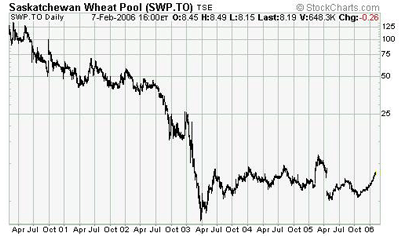 However, all this strife is the reason I like the Wheat Pool as an investment. This is not a fashionable stock. My impression is this company is lean and mean. There's no fat on these bones. They've consolidated, restructured, slimmed down and above all, survived.
The way I see it, there isn't much downside risk in this company. But if crop volumes improve over the next few years, the stock will soar. Unfortunately, I'm no expert on agriculture cycles, so I have to rely on other sources for crop predictions.
In this month's edition of TRAINS magazine, a statement from Canadian Pacific railroad says it expects grain shipments in Western Canada to improve in 2006.
One of our favorite traders – Dennis Gartman – is currently betting on higher wheat prices. He even mentions Saskatchewan Wheat Pool as a possible vehicle. The logic is that higher prices bring on greater supplies... a big plus for the Wheat Pool.
I recommend keeping an eye on the Wheat Pool over the coming years... along with timber, oil, and most every resource investment to be made in Canada.
By owning assets like these, investors will find the people of Canada and Asia to be superb business partners.
Good Investing
Tom Dyson