They call Wilbur Ross the master of distressed investing...
Ross has a knack for making huge investments in bombed-out, hopeless industries, just as they are about to gush profit.
Take his steel investment. It's 2002 and the economy has collapsed. Enron, WorldCom, and the demise of the new economy are stealing the spotlight. But the real casualties are America's "old economy" companies like steel, textiles, and manufacturing. China is eating their lunches... and entire American towns are turning into rusting wastelands.
Ross spends $325 million on a portfolio of left-for-dead steel assets. A few weeks later, President Bush enacts a 30% tariff on imported steel. Then the economy booms, and the world starts guzzling down steel.
In 2005, Mittal Steel, the largest steel company in the world, pays $4.5 billion for Wilbur Ross' steel assets. Ross scores a gain of 1,285% in three years.
After steel, Ross makes another fortune in textiles... and then pulls off the same stunt in the coal business. His company, International Coal Group, is now the fifth-largest coal company in the nation.
Fortune Magazine just interviewed Wilbur Ross... "Where do you think the biggest opportunities are right now?" the interviewer asked.
"There are deep value opportunities in insurance stocks," Ross responded.
Ross said exposure to the real estate crash has hurt the insurance industry. But the highest-quality companies are going to emerge stronger, with less competition. He said these companies used to trade at 1.5 or 2.0 times book value. Now, they trade at three-quarters book.
I found this chart from a presentation given at the recent Merrill Lynch Insurance Conference. It shows how cheap the insurance industry is right now... and confirms Ross' thesis.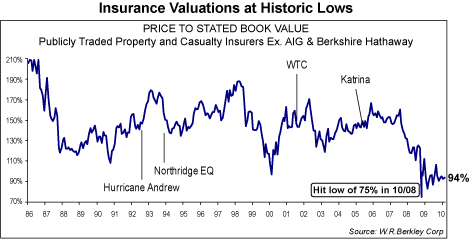 So what's the catalyst that turns the insurance business around and brings the profits gushing back?
Paradoxically, the industry needs a catastrophe...
Right now, there are too many insurance companies, with too much money, chasing too few opportunities. Some insurance companies are being so aggressive with their bidding, they're making it impossible for the handful of conservative, sensible insurance companies to operate.
A catastrophe, like a natural disaster or another financial crisis, would generate huge losses for the most aggressive players and force them out of the business, clearing the way for the conservative players to take over the market. Prices on insurance contracts would rise due to the reduced supply of insurance companies offering bids. The conservative companies would generate enormous profits.
My advice is, if you want to invest in cheap insurance stocks, make sure you buy only the highest quality, most conservative, risk-adverse companies. They're easy to spot. They have huge cash balances, and the number of insurance contracts they hold would have fallen for each of the past three years.
Good investing,
Tom