Back in February, I predicted
stock market volatility
would rise. It was one of the most compelling trades I've ever seen...
You can trade volatility like any other commodity. It's traded in Chicago, right alongside pork bellies, orange juice, and Treasury bonds. It's a futures market. If you think volatility's going to rise, you buy the futures. If you think it's going to fall, you sell the futures. There's also an exchange-traded fund (ETF) for volatility. Its symbol is VXX.
"One of the best volatility trading opportunities I've ever seen is setting up right now," I wrote. "I believe you'll make a quick 50% gain in this trade, and with some luck, you could make as much as 100%... in a few weeks."
I formed my prediction from the chart below. Volatility tends to move in multiyear cycles. You'll get long periods of almost no volatility, like the 1940s, 1950s, and 1960s. Then, you get long periods of high volatility, like the 1930s.
The VIX is an index of volatility for the S&P 500. It's the most popular index of volatility. This 20-year chart of the VIX illustrates these cycles perfectly. There was almost no volatility between 1992 and 1997 or between 2004 and 2007. But between 1998 and 2003, when tech stocks boomed and then busted, volatility traded on a much higher plateau.
Right now, America is mired in government manipulation, instability, and economic turmoil. In other words, I believe the stock markets have entered a new era of elevated volatility, similar to what occurred between 1997 and 2003 in this chart…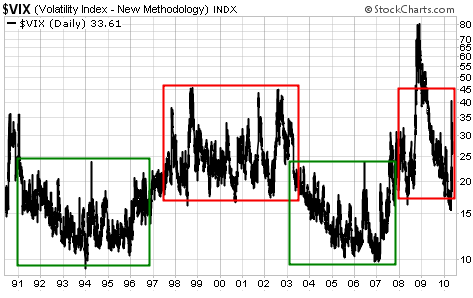 If I'm right about the long-term trends in the VIX, and the new elevated plateau for volatility, then all you have to do to make a fortune from volatility is buy whenever the VIX falls to 17.5, and sell whenever it rises above 45.
This system has worked spectacularly so far this year.
Volatility dropped below 17.5 in March and stayed there until mid-April. You had around six weeks to place the trade.
In the first week of May, volatility began to rise with anxiety about Greek debt and the euro. Then on Friday, May 7, the VIX soared over 42 after a computer glitch caused the stock market to suddenly crash. The VIX is still trading at high levels... currently around 35. If you'd entered this trade using the volatility ETF VXX, you'd currently be showing a profit of over 50%.
For the final step, you'll wait for the VIX to trade above 45, and then sell your position.
Also, with the VIX above 45, writing covered calls becomes one of the most profitable investment strategies in the world. The VIX is an indicator of option prices. When you write covered calls, you sell expensive options against a basket of blue-chip stocks. And you can generate a reliable 15% income stream while you wait for the VIX to fall below 17.5 again.
The bottom line is if America has entered a new era of volatility, using the VIX to trade will be one of the easiest ways to make money in the stock market over the next few years. Simply buy volatility when the VIX falls below 17.5 and sell when the VIX rises above 45. Write covered calls while you wait for the VIX to return to 17.5.
While you may have missed the most recent trade, don't worry… we'll get another chance soon. And we're on our way to covered call territory.
Good investing,
Tom